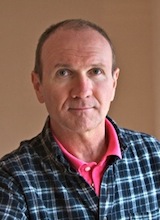 Leos G. Kral
Phone: 678-839-4023 | Fax: 678-839-6548
Email: lkral@westga.edu
Office: Biology Building 145A
Education/Degrees
Ph.D., Genetics and Zoology, Michigan State University,
B.S., Biology, York College of the City University of New York,
Courses and Sections
Courses Taught

Spring 2014 Sections
Research Interests
Conservation genetics of fish species that are endemic to the Tallapoosa watershed in western Georgia. Specifically, the genetic structure of the Tallappoosa darter (Etheostoma tallapoosae) and the Tallapoosa shiner (Cyprinella gibbsi) populations.
Evolution of centromeric protein A (CENP-A) in darters.
Utilization of whole genome sequences to explore adaptive variation among Tallapoosa darter populations and closely related darter species.
Web Sites
Selected Publications