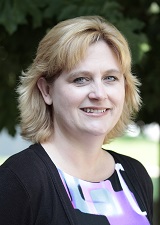 Tammy Towler
Budget Manager
Phone: 678-839-6589 | Fax: 678-839-6432
Email: ttowler@westga.edu
Office: Row Hall
Biography
Tammy joined Career Services in November 2014 and manages the Career Services budget and provides administrative support to the director.

In her free time, Tammy enjoys spending time with her family, going to soccer games, traveling and volunteering for the Villa Rica Soccer Association.
Education/Degrees
A.A.S., Business with options in Information and Office Technology, Floyd College, Rome, Georgia, 1992
General Responsibilities
Tammy processes invoice and assessment payments, maintains financial records, prepares reports, recording and maintains encumbrances. She manages the fiscal affairs including, purchase orders, requisitions, check requests, invoices, PARs, payroll, expense reports, and account reconciliation.
Length of Time at the University
Since July 2011