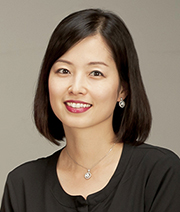 Yun-Jo An, Ph.D.
Assistant Professor
Phone: 678-839-6065 | Fax: 678-839-6153
Email: yan@westga.edu
Office: Education Annex 135
Biography
Yun-Jo An is an assistant professor of Instructional Technology in the Department of Educational Technology and Foundations. She received her M.S. and Ph.D. degrees in Instructional Systems Technology from Indiana University Bloomington (IUB). Her Bachelor of Arts in Educational Technology is from Ewha Womans University in Seoul, Korea. After completing her Ph.D., she worked for an e-learning company, Option Six, as an Instructional Designer for approximately two years. At Option Six, she designed and developed self-paced online courses for a number of clients, including Microsoft, Eli Lilly, Papa John's, and Toyota. She has taught a variety of Instructional Technology courses, including instructional technology, instructional design, instructional multimedia design and development, online learning and teaching, teaching with emerging technologies, diffusion of innovations, and research. She has published a number of peer-reviewed journal articles and book chapters on different yet interrelated topics, including online problem-based learning, digital game-based learning, scaffolding wiki-based, ill-structured problem solving, teaching with web 2.0 technologies, and learner-centered technology integration.
Education/Degrees
B.A., Educational Technology, Ewha Womans University, 2000
M.S., Instructional Systems Technology, Indiana University Bloomington, 2002
Ph.D., Instructional Systems Technology, Indiana University Bloomington, 2006
Courses and Sections
Courses Taught

EDSI-9998 (Research for Doc Dissertation)
MEDT-6401 (Instructional Technology)
MEDT-7464 (Design Tech Enhanced Instr)
MEDT-8461 (Diffusion of Innovations)
Selected Publications
An, Y. J. (2013). Strategies for supporting students' metacognitive processes in ill-structured problem solving in online environments. In B.Sutton & A.Basiel (Eds.), Teaching and Learning Online: New Models of Learning for a Connected World. Routledge.
An, Y. J. (2013). Systematic design of blended PBL: Exploring the design experiences and support needs of PBL novices in an online environment. Contemporary Issues in Technology and Teacher Education, 13(1).
An, Y. J. (2012). Learner-centered technology integration. In V. C. X. Wang (Ed.), Encyclopedia of E-Leadership, Counseling and Training. Hersey, PA: IGI Global.
An, Y. J., & Reigeluth, C. M. (2011). Creating technology-enhanced, learner-centered classrooms: K-12 teachers' beliefs, perceptions, barriers, and support needs. Journal of Digital Learning in Teacher Education, 28(2), 54-62.
An, Y. J. (2010). Scaffolding wiki-based, ill-structured problem solving in an online environment. MERLOT Journal of Online Learning and Teaching, 6(4), 723-734.
An, Y. J., & Williams, K. (2010). Teaching with Web 2.0 technologies: Benefits, barriers and lessons learned. International Journal of Instructional Technology & Distance Learning, 7(3), article 4.
An, Y. J., & Bonk, C. J. (2009). Finding that SPECIAL PLACE: Designing digital game-based learning environments, TechTrends, 53(3), 43-48.
Reigeluth, C. M., & An, Y. J. (2009). Theory building. In C. M. Reigeluth & A. A. Carr-Chellman (Eds.), Instructional-Design Theory, Vol. III: Building a Common Knowledge Base. New York: Routledge (Erlbaum Associates).
An, Y. J., & Reigeluth, C. M. (2008). Problem-based learning in online environments. Quarterly Review of Distance Education, 9(1), 1-16.
Reigeluth, C. M., & An, Y. J. (2006). Functional contextualism: An ideal framework for theory in IDT. Educational Technology Research and Development, 54(1), 49-53.
An, Y. J., & Frick, T. (2006). Student perceptions of asynchronous computer-mediated communication in face-to-face courses. Journal of Computer-Mediated Communication, 11(2), article 5.
An, Y. J., & Reigeluth, C. M. (2005). A study of organizational learning at Smalltown hospital. Performance Improvement Journal, 44(10), 34-39.
Frick, T., Su, B. & An, Y. J. (2005). Building a large, successful Website efficiently through inquiry-based design and content management tools. TechTrends, 49(4), 20-31.