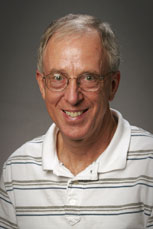 Ron Shepherd, Ed.S.
Lecturer
Phone: 678-839-6073 | Fax: 678-839-6195
Email: rshepher@westga.edu
Office: Coliseum 2034
Biography
Ron Shepherd has been full time at UWG in the COE since 2003, first in Curriculum and Instruction as a temporary instructor in Middle Grades and Secondary Education and now as a lecturer in the Department of Leadership & Applied Instruction. He teaches several EDUC 2110 courses in Critical Issues in Education and supervises both Middle Grades and Secondary Education interns. Ron also supervises Secondary Curriculum and Methods students as the need arises. Ron started at UWG in the fall of 2001 as an adjunct supervising both Middle Grades and Secondary students and then was hired full time in the fall of 2003.
Education/Degrees
B.A., Political Science/ US History, Indiana University, 1964
M.A.T., Social Studies, Indiana University, 1966
Ed.S., Education, Butler, Indiana State, Indiana and Purdue University, 1970
Courses and Sections
Courses Taught

EDUC-2110 (Inv Crit and Contem Issues-Edu)
MGED-4286 (Teaching Internship)
MGED-4287 (Teaching Internship I)
MGED-4288 (Teaching Internship II)
SEED-4271L (Sec Schl Curr & Rel Top Lab)
SEED-4286 (Teaching Internship)
SEED-7288 (Teaching Internship)

Spring 2014 Sections

Fall 2013 Sections

Spring 2013 Sections
Selected Publications
Ron Shepherd. A Social Studies Teacher's Response to America 2000-Goal 3 The International Journal of Social Education, Ball State University, Muncie, Indiana.