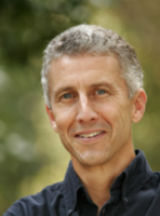 Tobin R. Hart, Ph.D.
Professor
Phone: 678-839-0603 | Fax: 678-839-0611
Email: thart@westga.edu
Office: Melson Hall 106
Hours: MW: 2:00-3:30pm
T: 12:30- 3:30pm
Or by Appointment
Biography
Tobin's work explores human consciousness at the nexus of spirituality, psychology and education. Much of his work centers on how we know and how we grow. He says: "Even as a child, I remember being fascinated by how we know, especially that knowing that takes place in those special moments when the world opens more deeply to us, and we to it. For me, this can occur in an intimate connection with a friend, during a moment of inspiration, in meditation, or perhaps in the awe of witnessing a thunderstorm just overhead. I've been fortunate to turn that curiosity about knowing into a career."

He researches, writes and teaches on a variety of topics including: deep empathy, transformative education, spiritual development, the inner life of children, contemplative inquiry, music and the mind, psychology of mind and body.

Tobin received his B.A. in psychology at the University of Florida, his M.Ed. in counseling and human development at St. Lawrence University and his Ph.D. in counseling psychology at the University of Massachusetts, Amherst.
Courses and Sections
Courses Taught

PSYC-4085 (Music and the Mind)
PSYC-4760 (Introduction to Psychotherapy)
PSYC-5085 (Music and the Mind)
PSYC-6010 (Human Growth and Potential)
PSYC-6161 (Counseling Methods)
PSYC-6785 (AdvSem:TranspersonalKnowing)
PSYC-6899 (Thesis)
PSYC-7020 (Transpersonal Development)
PSYC-7810 (Tutorial: Transpersonal Devel)
PSYC-8002 (Studies in Mind-Body)
PSYC-8009 (Transprsnl Foundations of PSYC)
Selected Publications
Links
• www.childspirit.org • www.innerliberalarts.org
Books
• From Information to Transformation: Education for the Evolution of Consciousness (2009). • The Secret Spiritual World of Children (2003). • Transpersonal Knowing: Exploring the Horizon of Consciousness (2000). • Spiritual Knowing: Alternative Epistemic Perspective (1997).