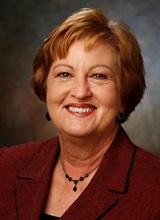 Carol Wilson, PhD, RN
Professor
Phone: 678-839-5637 | Fax: 678-839-2462
Email: cwilson@westga.edu
Office: School of Nursing Building 357
Biography
My philosophy of teaching is based on a framework of caring that includes caring for self as well as others. I believe that the student teacher relationship should be one of collegiality with the student as teacher and the teacher as student. I also believe that it is important to honor each student as an individual with unique talents. Within this framework, learning becomes an opportunity for personal and intellectual growth for students and teachers.
Courses and Sections
Courses Taught

NURS-6102 (Role of Caring Hlthcare Prof)
NURS-6105 (Lead for Qual, Safety, & Hlth)
NURS-6114 (Intro to Health Sys Leadership)
NURS-9003 (Prin of Qual Inq Design & Meth)
NURS-9008 (Edu Theory & Phil Found of Edu)
NURS-9010 (Nursing Research Seminar)
NURS-9015 (Dissertation)
Education/Degrees
Diploma, Piedmont Hospital School of Nursing, Atlanta, Georgia, 1970
B.S., Bachelor of Science in Nursing, Georgia University, Atlanta, Georgia, 1979
M.S., Master of Science in Nursing, Georgia University, Atlanta, Georgia, 1980
Ph.D., Doctorate of Philosophy, Nursing, Georgia University, Atlanta, Georgia, 1995
Areas of Expertise or Professional Interests
The scholarship of caring, management and leadership
Professional Memberships and Certifications
American Nurses Association, Georgia Nurses Association
American Association of University Professors
Sigma Theta Tau, Pi Nu
International Association for Human Caring
Personal Interests
grandchildren, camping, hiking, boating, travel
The most unique thing about our program is
the caring curriculum as exemplified by the Caring Group.