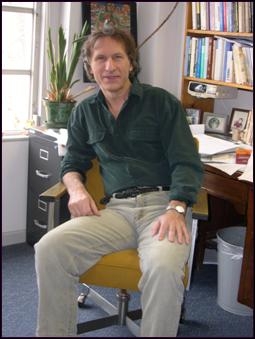 Christopher Aanstoos, Ph.D.
Professor
Phone: 678-839-0618 | Fax: 678-839-0611
Email: aanstoos@westga.edu
Office: Melson Hall 208-A
Hours: MTWR: 12:30-2:00pm
Biography
Chris was born in 1952 on Saipan, in the Marianas Islands, and grew up in the Washington D.C. area, as well as in Austria, Germany, and Greece. After earning a B.A. degree from Michigan State University, he received his M.A. and Ph.D. degrees in phenomenological psychology from Duquesne University. His dissertation, under the mentorship of Amedeo Giorgi, examined the phenomenology of thinking and began his critical dialogue with cognitive psychology. That ongoing critique exemplifies his larger interest in the philosophical and methodological foundation of psychology. Many of Chris's publications are in this area, including his editorship of the 1984 volume of the Studies in the Social Sciences entitled Exploring the Lived World: Readings in Phenomenological Psychology, and the 1991 volume entitiled Studies in Humanistic Psychology. These interests are reflected as well in chapters he has contributed to such books as Qualitative Research in Psychology, Advances in Qualitative Psychology, Measurement and Personality Assessment, Imagination and Phenomenological Psychology, and Duquesne Studies in Phenomenological Psychology (Volume 4). This concern for psychology's conceptual foundations is also the root of Chris's participation in organizations such as the Human Science Research Association and the American Psychological Association, where he has served as program chair and on executive boards. He is also the editor of The Humanistic Psychologist, one of APA's division journals. And he has served as president of the Division of Humanistic Psychology of the APA. Chris joined the West Georgia faculty in 1982 after teaching for three years at Pennsylvania State University. Through his experience with his children, Megan and Lucas, he has also enjoyed cultivating a specialty in developmental psychology and has edited the volume The World of the Infant. His teaching and research interests, when time permits, also extend across the broad spectrum of consciousness's intentive relations with the body, others, and world, sampling such themes as spiritual experiences, dreaming, television advertisements, and existential transformation.
Courses and Sections
Courses Taught

PSYC-3010 (Human Growth and Development)
PSYC-4884 (Integrative Seminar)
PSYC-6000 (Foundations Humanistic Psych)
PSYC-6899 (Thesis: Phenomenology of Innov)
PSYC-7810 (Faculty Roundtable)
PSYC-8008 (Foundations Humanitic Psych)

Fall 2014 Sections

PSYC-6000 (Foundations Humanistic Psych) Section: 01 [View Syllabus]
PSYC-6899 (Thesis) Section: 05
PSYC-6899 (Thesis: Phenomenology of Innov) Section: 06
PSYC-7810 (PhenomenologyOfConsciousness) Section: 09 [View Syllabus]