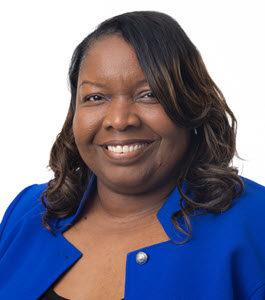 Denise Morris, MSN, RN
Lecturer
Phone: 678-839-2437 | Fax: 678-839-2462
Email: dmorris@westga.edu
Office: School of Nursing Building 321
Biography
The foundations of education are the values and beliefs that drive an educator to provide the best classroom environment. I am the type of educator that is creative, knowledgeable and caring towards my students. The creative component of my teaching comes across in the lessons that are presented in the classroom. It is important that the classroom focuses on a learner-centered environment, with a variety of activities that address the visual, auditory and kinesthetic learner. The creativity of the lesson, coupled with a clear statement of the objectives and a concise outline of the expectations and guidelines, aides in optimal learning.

In addition to creativity, as an educator it is important for me to maintain a firm foundation of knowledge, so that I can communicate this information to the students. A foundational component of this information is based on evidence based practices. Nursing trends, technology and practices change over the course of time and it is paramount that, as nurses, we can adjust to these changes. This outlook in nursing education is rooted in the ultimate goal, which is to present the information to students in such a way that they walk out of the classroom with the tools needed to become an effective nurse leader.

But the value that is the most transparent is the one where students realize that the educator actually cares for them, beyond just a name on the roster or another person sitting in a chair. When modeled in the classroom environment, the learner will translate that level of caring to the hospital bedside. This is important, because regardless of the nursing specialty, patients are keenly aware of nurses that 'care' for them. Therefore this characteristic, which is an essential element of my teaching style, transcends any lesson that could come from the front of the classroom.
Education/Degrees
M.S., Master of Science in Nursing Education, Walden University,
B.S., Bachelor of Science in Nursing, Emory University,
B.S., Bachelor of Science in Biology/Chemistry Education, Oakwood University,
Courses and Sections
Courses Taught

NURS-2102 (Pathophysiology & Pharm II)
NURS-4301 (Clinical Practice III)
NURS-4302 (Clinical Practice IV)
NURS-4527 (Nurs Leader in Hlthcare Com)
Areas of Expertise or Professional Interests
Labor and Delivery
High Risk Pregnancy
Postpartum and Recovery of cesarean/vaginal deliveries
Honors and Awards
Boisfeuillet Jones Award -Emory University
Nursing Excellence Award
Professional Memberships and Certifications
Association of Women's Health, Obstetric and Neonatal Nurses (AWHONN)
Sigma Theta Tau International Honor Society of Nursing (Alpha Epsilon Chapter)
Georgia Association of Nursing Education
Personal Interests
Photography, Traveling, Music, Quality time with family and friends
The most unique thing about our programs is
the commitment of faculty and staff to embrace the concept of forward movement and visionary thinking.