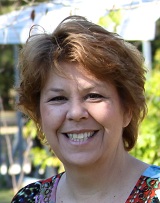 Debra Robinson, Ph.D.
Instructional Designer
Phone: 678-839-5288 | Fax: 678-839-0636
Email: debrar@westga.edu
Office: Old Auditorium FDC
Biography
I am a native of Georgia currently living at the foot of the Appalachian Mountains in Bremen, GA (just outside of ATL on I-20). I received my BS in Recreation and Leisure Studies from Georgia Southern University in 1985; my M.Ed in Physical Education and Health with a concentration in Adapted and Elementary Physical Education from the University of Georgia in 1996; and in 2009, I completed my PhD in Leadership and Educational Administration from Capella University.

I have over 17 years' experience in K-12 education, served as a Student and Teacher Support Specialist and Educational Consultant at both the district and regional levels. Currently I teach online courses at the graduate level for Ashford University, Continuing Education here at UWG, and work to create the best in faculty professional development here for UWG|Online.

I am married to a fellow educator and we are parents to two amazing daughters we adopted from China. My professional passions tend to revolve around best instructional practices, increasing the level of collaboration for instruction, and increasing effective use of technology.
Education/Degrees
M.Ed., Heath and Physical Education, University of Georgia, 1996
Ph.D., Leadership and Administration (K-12), Capella University, 2009