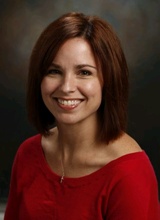 Ashley Helvig, PhD, RN
Assistant Professor
Phone: 678-839-5639 | Fax: 678-839-6553
Email: ahelvig@westga.edu
Office: School of Nursing Building 313
Biography
Nursing education has evolved greatly since I graduated in 1992. Acquiring nursing knowledge is more complex now, but it is also more exciting because the student is the center of the classroom. I love nursing and mentoring students. This is a journey taken alongside the student, and in every class I teach, I discover that I am learning from my students as well. Student experiences are invaluable, and when students take an active part in their learning, the entire class benefits.

Nursing education does not cease once graduation comes along. Because of the ever-changing state of our healthcare system and the new knowledge being discovered every day through nursing and medical research, nurses must be diligent in keeping competent and current. This competence and diligence is part of what creates a caring nurse. A caring nurse is knowledgeable, resourceful, ethical and skilled.

Nursing is the only profession that cares for a person's mind, body and spirit. As a nurse, you will impact lives beyond imagination. What a privilege that is.
Education/Degrees
Ph.D., Doctor of Philosophy, Nursing, Georgia State University,
M.S., Master of Science, Nursing Education, University of West Georgia,
B.S., Bachelor of Science in Nursing, Medical College of Georgia,
Courses and Sections
Courses Taught

NURS-3400 (Nursing Res & Evid-Based Prac)
NURS-6187 (Clin Nurse Ldr (CNL) Rl Prac I)
NURS-6403 (Adv Applied Pharmacology)
NURS-6404 (Adv Pathophysiology)
NURS-9010 (Nursing Research Seminar)
NURS-9014 (Directed Readings)

Summer 2014 Sections

Spring 2014 Sections

Fall 2013 Sections

Summer 2013 Sections

Spring 2013 Sections
Honors/Awards
University of West Georgia, Internal Faculty Development Grant. Project title: Seizure and Behavioral Phenotyping of the Scn1a Mouse Model of Genetic Epilepsy with Febrile Seizures Plus, $8,196.00. Funded January, 2013.

Atlanta Journal-Constitution nominee for the eighth annual Celebrating Nurses Awards, 2013

Selected as the first nursing student member of the Center for Behavioral Neuroscience, Georgia State University, 2010

HEART of Fayette recipient, Piedmont Fayette Hospital, 2006
Professional Memberships and Certifications
Southern Nursing Research Society
National League of Nurses
Sigma Theta Tau Nursing Honor Society
Personal Interests
Church, spending time with family, reading, watching movies
The most unique thing about our program is
The way our faculty creates a conceptual-based curriculum to foster critical thinking in our nursing students
Areas of Expertise or Professional Interests
Research, Infusion Therapy