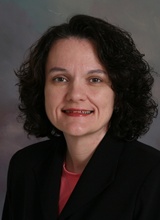 Lisa Robinson, DNP, RN, NP-C
Assistant Professor
Phone: 678-839-5427 | Fax: 678-839-2462
Email: lisar@westga.edu
Office: School of Nursing Building
Biography
During my early days as a nursing student I watched my own nursing faculty completing the requirements to obtain their doctorate in nursing. Even in those early days before the title of nurse had been bestowed to me I knew my path would lead me to my doctorate in nursing.

After graduation from UWG with my BSN I began a fulfilling career in critical care. My skill set and experiences expanded quickly. Every day was filled with learning more about the art of nursing and my passion for learning continued to expand. Soon I decided to pursue my MSN at the University of Alabama at Birmingham. I enjoyed the experience and the days quickly passed till graduation and then certification as a family nurse practitioner. A new chapter in my nursing career led me into practice in a rural health setting. Every day again was a learning experience. My days did share one commonalty, I constantly counseled with patients about the importance of taking prescribed medications consistently.

The opportunity to again return to school arose and I decided to again work toward my goal of completing a terminal degree in nursing. I selected Mercer and began the path of completing my DNP. My studies focused on the already identified issue of medication adherence. With the guidance of my faculty at Mercer I narrowed my area of investigation to understanding why medication adherence remained low in my own patient population. I discovered through my work patients often based their decisions about medication adherence on their personal beliefs around medication efficacy.

Completion of my DNP led me to again evaluate my nursing career trajectory and seek a way to positively impact the profession of nursing. I quickly decided I wanted to return to the class room in a different manor and become a faculty member. I am excited to be back at UWG. The changes in nursing and health care are rapid and continue to be accelerated with advances in technology. I enjoy watching student nurses find their passion for my chosen field. From Florence Nightingale to the new student who just began a nursing program, every nurse has a chance to enhance the lives of our patients through providing quality care. I consider it an honor to be allowed to participate in the education of nurses.

My favorite quote:
"I never gave nor accepted any excuses."
-Florence Nightingale.
Education/Degrees
B.S., Bachelor of Science in Nursing, University of West Georgia, 2000
M.S., Master of Science in Nursing, University of Alabama at Birmingham, 2008
D.N.P., Doctor of Nursing Practice, Georgia Baptist College of Nursing of Mercer University, 2012
Courses and Sections
Courses Taught

NURS-6103 (Hlth Prom & Adv Hlth Assessmnt)
NURS-6106 (Pathophysiology & Pharm I)
NURS-6107 (Pathophysiology & Pharm II)
NURS-6109 (Info,Tech & Hltcare Outcomes)
NURS-6404 (Adv Pathophysiology)
Areas of Expertise or Professional Interests
Certified Nurse Practitioner with six years of experience in primary care, and certification in the area critical care nursing highlight my professional nursing career. My scholarly project for my DNP program focused on patient beliefs about medication prescribed for the treatment of hypercholesterolemia.
Professional Memberships and Certifications
CCRN, American Association of Critical Care Certification Corp
NP-C, American Academy of Nurse Practitioners
American Association of Critical Care Nursing (AACN)
American Heart Association
National League of Nursing (NLN)
American Academy of Nurse Practitioners (AANP)
Carroll County Advance Practitioners (CCAP)
Sigma Theta Tau International
University of Alabama Birmingham Alumni Society
American Academy of HIV Medicine
Phi Kappa Phi International
Personal Interests
My personal time is often spent outdoors. I enjoy any activities which take me outdoors. If those activities can be near water it's even better. I love reading and books. Primarily, I read non-fiction and usually have 3-5 books I'm reading at any one time.
The most unique thing about our programs is
I am a UWG alumnus. I came back primarily because of the caring education I received. I find it an honor to return here and show my students the kind of caring I received. This University is an asset to the community and to the health care system by educating nurses who excel at the art of nursing.