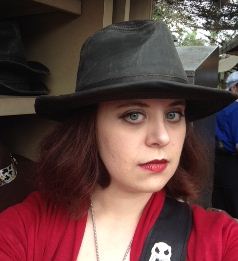 Kelley M. Frank, M.A.
Instructor of English
Phone: 678-839-4158 | Fax: 678-839-4849
Email: kfrank@westga.edu
Office: Pafford Social Science Building 105-A
Hours: Available Mondays 8:00am -- 11:15am and on Tuesdays and Thursdays 8:00am-9:15am and 12:30am-1:45pm

Please email to schedule an appointment.
Biography
Students in my English 1101 and 1102 classes learn argument and how thinking in terms of context, content, and audience guide the writing process, from brainstorming to the final product.

I have several professional areas of interest that occupy my academic research:
Game studies, particularly video and trading card games as pedagogical tools.
Discourse acquisition in niche cultures/communities such as fan-made communities and fanfiction.
Collaborative learning through group activities, discussions, and workshops.
Literary studies in feminism, popular culture, and the horror genre.
Film history and analysis, particularly animation and horror, and the use of film as a text for introductory analysis.

I also write both fiction and nonfiction that leans toward the weird or horrific. I'm currently working on a Victorian-era supernatural novel, but I've also had work published in some anthologies, including the two samplings below.

"The Mortician's Secret" in Flesh and Bone: Rise of the Necromancers: A young mortician comes to terms with a strange legacy and the consequences of his curiosity.

"Collector" in Nocturnal Embers: An artist travels to Paris to reconsider his life choices, but he wasn't expecting to meet someone so beautiful ... or strange.
Education/Degrees
A.A., Integrated Studies, Clayton State University, 2001
B.A., Bachelor of English, Kennesaw State University, 2004
M.A., Master of Composition and Rhetoric, Kennesaw State University, 2009
Courses and Sections
Courses Taught

Spring 2016 Sections

Fall 2015 Sections

Spring 2015 Sections