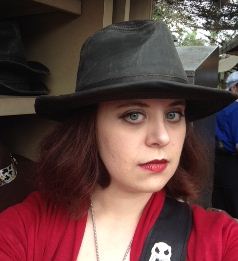 Kelley Frank
Instructor
Phone: 678-839-4158 | Fax: 678-839-4849
Email: kfrank@westga.edu
Office: Pafford Social Science Building 105-A
Hours: Tuesdays and Thursdays: 8:00am-9:15am and 12:45am-1:45pm
Mondays: 8:00am-9:45am and 1:15-4:00pm
I am also available by appointment.
Courses and Sections
Courses Taught

Spring 2014 Sections

Fall 2013 Sections

Spring 2013 Sections
Education/Degrees
A.A., Integrated Studies, Clayton State University, 2001
B.A., Bachelor of English, Kennesaw State University, 2004
M.A., Master of Composition and Rhetoric, Kennesaw State University, 2009
Biography
My professional areas of interest include game studies, discourse acquisition in niche cultures/communities, collaborative learning, and the use of film as a text for introductory analysis. I also write creative nonfiction and horror and have published short works in both fields.