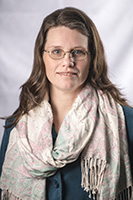 Bobbi Powell
Web Developer
Phone: 678-839-4788 | Fax:
Email: bobbip@westga.edu
Office: Murphy Athletic
Biography
Bobbi Powell serves as Web Developer for the eCore program. She holds a Bachelor of Science in Information Technology from University of Phoenix. Bobbi currently resides in Carrollton with her husband John and daughter Hannah where she spends her time finding homes for the creatures her daughter brings home.
Education/Degrees
Certificate, Medical Terminology, Oklahoma City Health Sciences Center, 1994
Certificate, HTML, Skill Soft, 1998
Certificate, Graphic Design, Skill Soft, 1998
Certificate, JavaScript, Skill Soft, 1999
Certificate, Certificate in Web (CIW), Skill Soft, 2001
A.S., Administrative Technology, Dekalb Technical College, 2003
B.S., Information Technology, University of Phoenix, 2010
Certificate, Design the Web: Simulating Web Text, Lynda.com, 2013
Certificate, PHP with MYSQL Beyond the Basics, Lynda.com, 2014