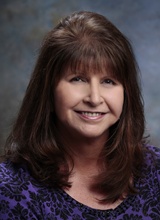 Betty Speir, MS, RN, CHSE
Simulation Nurse Educator
Phone: 678-839-2405 | Fax: 678-839-2462
Email: bspeir@westga.edu
Office: School of Nursing Building 203D
Biography
After graduating from the BSN program at the University of West Georgia, many doors of opportunity opened where I was fortunate to try on various nursing roles from which I gleaned valuable insight into the nursing profession. It was not until I heeded the call to serve as a nurse educator that I began to focus on the art and science of how students learn and progress to expert nurses. Through much research and study, utilizing simulated clinical experiences (SCE) in a simulation lab followed by reflective thinking and debriefing theoretically produced better prepared nurses. Therefore, simulation became my passion and certified nursing specialty.

As a nurse educator, I have the privilege of working with the best students who, although bright and dedicated, are still novices with a great deal of growing and learning ahead. Therefore, it is with this principle that I embrace Patricia Benner's concept that "nurses develop skills and understanding of patient care over time and through a sound educational base as well as a multitude of experiences" (Benner, 1982).

Therefore, utilizing simulated clinical experiences in a safe, non-threatening environment where mistakes can be made and experiential learning can occur became the emphasis for guiding students through Benner's levels of nursing experience. By conceptualizing how adult students learn and store memory through Bloom's Taxonomy, the process of introducing concepts/theory in the classroom, engaging in deliberate practice in the skills lab and applying those concepts in the simulation lab became a model for success. Once the required knowledge was gleaned through this process, the introduction of Dreifuerst's Debriefing for Meaningful Learning method brought the concepts full circle. Through framing the problem, visualizing the concept across the lifespan along with reflection thinking, the students seemingly understand how it all fits together and can anticipate how to master future patient encounters.

These concepts and principles are embraced at the University of West Georgia where students can learn in a state-of-the-art facility, with dedicated faculty and staff and progress through the stages of growth and reach their goals. As a graduate of this school of nursing, I am proud to be a part of this great nursing program and team of dedicated educators.
Education/Degrees
B.S., Bachelor of Science in Biology, University of West Georgia,
M.S., Master of Science in Biology, University of West Georgia,
B.S., Bachelor of Science in Nursing, University of West Georgia,
Certified Healthcare Simulation Educator,
M.S., Master of Science in Nursing, Robert Morris University, 2014
Personal Interests
Holistic health, nutrition and exercise to slow the aging process and live life to the fullest
Inspiring others to choose to be happy through daily positive self-declaration
Professional Memberships and Certifications
Professional Memberships:
Sigma Theta Tau International Honor Society of Nursing Upsilon Phi Chapter
International Nursing Association for Clinical Simulation
Society for Simulation in Healthcare
American Nurses Association
Georgia Association of Nurse Educators

Professional Certifications:
Graduate certificate - Leadership in Simulation Instruction and Management, Robert Morris University
TeamSTEPPS Master Trainer - Tulane Center for Advanced Medical Simulation and Team Training
The most unique thing about our program is
the culture of caring and the dedication of our faculty and staff to the success of our students in their endeavor to become professional registered nurses.
Areas of Expertise or Professional Interests
Clinical Simulation in Nursing Education
Technology in simulation
TeamSTEPPS - Team Strategies and Tools to Enhance Performance and Patient Safety
The Art and Science of Debriefing
Quantitative research and the effect simulation has on the transfer of critical thinking skills to the clinical setting
Qualitative research on the effect anxiety has on performance in simulation and the clinical setting