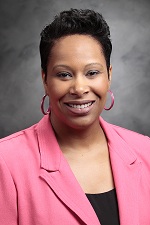 Keri Burns, M.Ed.
Director, Career Services
Phone: 678-839-6431 | Fax: 678-839-6432
Email: kburns@westga.edu
Office: Row Hall 3rd Flr,
Hours: Monday - Friday 8:00 am - 5:00 pm
Biography
Keri Burns has over 10 years of career services and employer relations experience. Prior to joining UWG, Keri was the Director of Career Services at her alma mater; Southern Illinois University Carbondale, and served as Assistant Director of Recruitment Operations at Texas Christian University's Neeley School of Business. She was responsible for cultivating employer relationships, expanding employment opportunities for MBA students/alumni, and facilitating employer participation from various industries.

As a career services professional, she strongly believes that students should be empowered to become proactive in their own career development and strives to provide opportunities for students to connect with employers, both off and on campus, and to pursue their dreams.

Her credentials include completing NACE's Management Leadership Institute, being actively involved in several professional associations including the National Association of Colleges and Employers (NACE) and the MBA Career Services Council (MBACSC) and presenting at numerous regional and national conferences. Keri holds both her B.S in Hotel, Restaurant and Travel Administration and M.S Ed in Workforce Education and Development from Southern Illinois University Carbondale. As the Director, Keri Burns oversees budgeting, personnel and strategic planning for the University of West Georgia Career Services department.

In her free time, Keri enjoys going to the movies, spending time with her family and traveling.
Education/Degrees
M.Ed., Workforce Education and Development (Human Resources Management), Southern Illinois University Carbondale,
B.S., Hotel, Restaurant and Travel Administration, Southern Illinois University Carbondale,
General Responsibilities
1) Provides strategic and forward-looking leadership for the delivery of University Career Services including Student Employment (On-Campus, America Reads, Community Service), Career Development (Counseling, Assessments, Job Search, Resume/Cover Letter Writing) and Employer Relations (Career Fairs, On-Campus Interviews, Job Postings). 2) Oversee fiscal planning and budget development 3) Lead a team of (11) professional staff, (3) graduate assistants and (4-6) student assistants
Professional Associations
*National Association of Colleges and Employers (NACE) *National Career Development Association (NCDA) *Georgia Association of Colleges and Employers (GACE) *Georgia Career Development Association (GCDA) *University System Committee-Career Services & Cooperative Education (USC-CACE) *Society of Human Resource Management (SHRM)
Length of Time at the University
Since August 2013