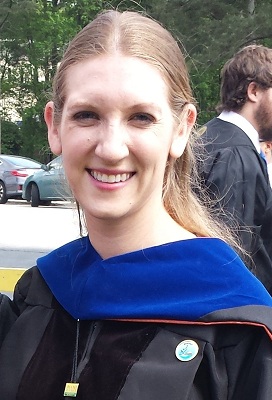 Janet Genz
Phone: 678-839-4032 | Fax: 678-839-6548
Email: jgenz@westga.edu
Office: Biology Building 204
Education/Degrees
B.S., Biology, University of Miami, 2005
Ph.D., Marine Biology & Fisheries, University of Miami, Rosenstiel School of Marine & Atmospheric Science, 2010
Skills
Epithelial ion transport
Investigation of transport of ions across epithelial membranes, focusing on the intestinal epithelium of aquatic organisms. Ions of particular interest are calcium (hard and soft water), and acid-base equivalents (H+, OH-).
Physiology of Aquatic Organisms
Experimentation using live aquatic organisms, both invertebrate and vertebrate, marine and freshwater. Investigations focus on ion transport physiology, nutrition, and energy usage.
Courses and Sections
Courses Taught

BIOL-1110 (Biological Diversity)
BIOL-4539 (Comparative Physiology)
BIOL-5539 (Comparative Physiology)

Spring 2016 Sections

BIOL-1110 (Biological Diversity) Section: 01
BIOL-1110 (Biological Diversity) Section: 02
BIOL-1110 (Biological Diversity) Section: 03
BIOL-1110 (Biological Diversity) Section: 04
BIOL-1110 (Biological Diversity) Section: 05
BIOL-4539 (Comparative Physiology) Section: 01W
BIOL-5539 (Comparative Physiology) Section: 01

Fall 2015 Sections

BIOL-1110 (Biological Diversity) Section: 06
BIOL-1110 (Biological Diversity) Section: 07
BIOL-1110 (Biological Diversity) Section: 08
BIOL-1110 (Biological Diversity) Section: 09
BIOL-1110 (Biological Diversity) Section: 10
BIOL-4539 (Comparative Physiology) Section: 01W
BIOL-5539 (Comparative Physiology) Section: 01

Spring 2015 Sections

BIOL-1110 (Biological Diversity) Section: 01
BIOL-1110 (Biological Diversity) Section: 02
BIOL-1110 (Biological Diversity) Section: 03
BIOL-1110 (Biological Diversity) Section: 04
BIOL-1110 (Biological Diversity) Section: 05
BIOL-4539 (Comparative Physiology) Section: 01W
BIOL-5539 (Comparative Physiology) Section: 01