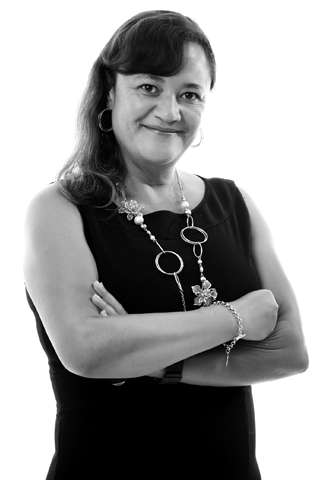 Adriana D'Alba, Ph.D.
Assistant Professor
Phone: 678-839-6129 | Fax: 678-839-6153
Email: adalba@westga.edu
Office: Education Annex 140
Hours: Tuesdays and Thursdays 1:00 PM - 4:00 PM
Biography
Adriana D Alba is an Assistant Professor in the College of Education and teaches graduate courses in the Department of Educational Technology and Foundations. She holds a PhD in Educational Computing and an MPhil in 2D/3D Motion Graphics. Her research interests include multimedia applications and technology integration in the classroom, instructional design, development and assessment of Three-Dimensional online learning environments, game-based learning, and integration of emerging technologies in STEM curriculum.
Dr. D' Alba was the recipient of the 2015 COE Outstanding Research Award for her work in 3dimensional virtual environments for learning. She is a member of the American Educational Research Association, the Society for Information Technology and Teacher Education, the International Society of Teacher Education, and the Association for Educational Communications and Technology.
Education/Degrees
B.A., Graphic Design, Autonomous University of the State of Mexico, 1994
M. Phil., 2D/3D Motion Graphics, Glasgow School of Art, 2007
Certificate, Museum Education, University of North Texas, 2011
Ph.D., Educational Computing, University of North Texas, 2012
Courses and Sections
Courses Taught

EDSI-9998 (Research for Doc Dissertation)
MEDT-7470 (Digital Media Prod & Utiliztn)
MEDT-7472 (Intro to Distance Education)
MEDT-7490 (Visual & Media Lit Tch & Learn)
MEDT-8463 (Issues in Instruct. Technology)

Summer 2016 Sections

MEDT-7472 (Intro to Distance Education) Section: E01 [View Syllabus]
MEDT-7490 (Visual & Media Lit Tch & Learn) Section: E02 [View Syllabus]
MEDT-7490 (Visual & Media Lit Tch & Learn) Section: E01 [View Syllabus]
EDSI-9998 (Research for Doc Dissertation) Section: E24

Spring 2016 Sections

MEDT-7472 (Intro to Distance Education) Section: E01 [View Syllabus]
MEDT-7490 (Visual & Media Lit Tch & Learn) Section: E01 [View Syllabus]
MEDT-8463 (Issues in Instruct. Technology) Section: E01 [View Syllabus]
EDSI-9998 (Research for Doc Dissertation) Section: E25

Fall 2015 Sections

MEDT-7472 (Intro to Distance Education) Section: E01 [View Syllabus]
MEDT-7490 (Visual & Media Lit Tch & Learn) Section: E01 [View Syllabus]
MEDT-7490 (Visual & Media Lit Tch & Learn) Section: E02 [View Syllabus]
EDSI-9998 (Research for Doc Dissertation) Section: E31

Summer 2015 Sections

MEDT-7490 (Visual & Media Lit Tch & Learn) Section: E01
MEDT-7490 (Visual & Media Lit Tch & Learn) Section: E02
MEDT-8463 (Issues in Instruct. Technology) Section: E01

Spring 2015 Sections

MEDT-7470 (Digital Media Prod & Utiliztn) Section: E01 [View Syllabus]
MEDT-7472 (Intro to Distance Education) Section: E01 [View Syllabus]
MEDT-8463 (Issues in Instruct. Technology) Section: E01 [View Syllabus]
Selected Publications
D' Alba, A., Jones, G., & Wright, R. (2015). Comparative analysis of Visitors' Experiences and Knowledge Acquisition Between a 3dimensional Online and a Real-World Art Museum Tour. Journal of Educational Multimedia and Hypermedia, 24(1), 5-22.
D Alba, A., & Jones, G. (2013). Analyzing the Effects of a 3D Online Virtual Museum in Visitors Discourse, Attitudes, Preferences, and Knowledge Acquisition. In K. Nettleton, & L. Lennex (Eds.), Cases on 3D Tech Application and Integration in Ed (pp 26-47)
D Alba, A., Najmi, A., Gratch, J., Bigenho, C. (2010) Virtual Learning Environments: The oLTECx, a study of participant attitudes and experiences. International Journal for Gaming and Computer Mediated Simulations (IJGCMS) 3 (1) pp. 33-50