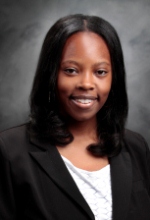 Fawn Hudson
Career Development Specialist
Phone: 678-839-6431 | Fax: 678-839-6432
Email: fhudson@westga.edu
Office: Row Hall
Hours: Monday - Friday 8:00 am - 5:00 pm
Biography
Fawn Hudson is one of our new Career Development Specialists and is also a proud alumna of UWG having earned a BS in Sociology before attending graduate school to receive her MA in Community Counseling from Clark Atlanta University. As a national certified counselor, she is looking forward to serving as liaison to 2 academic colleges as well as accessibility students and the Advanced Academy. Fawn is dedicated to providing career guidance and targeted programming to help our students become market-ready for their chosen career.

In her spare time, Fawn enjoys mentoring young women in the community and providing them with preventative mental health resources. She also enjoys traveling with her husband and three children.
Education/Degrees
M.A., Professional Counseling, Clark Atlanta University,
B.S., Sociology, University of West Georgia,
Courses and Sections
Courses Taught

UWG-1101 (First Year Univ. Experience)

Fall 2015 Sections

UWG-1101 (First Year Univ. Experience) Section: 09
General Responsibilities
* Provide group and individual advising sessions with students. * Assist students with developing resumes, cover letter writing, interview skills, internship/externship search, and job search strategies. * Facilitate workshops and presentations on career related topics.
Professional Associations
Georgia Association of Colleges and Employers (GACE); National Career Development Association (NCDA); Licensed Professional Counseling Association of Georgia (LPCA)
Length of Time at the University
Since January 2014