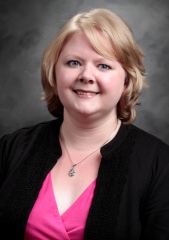 Sadie Young
Associate Director - Career Development
Phone: 678-839-6431 | Fax: 678-839-6432
Email: sadiey@westga.edu
Office: Row Hall
Biography
Sadie is a native of Georgia who completed both a Bachelor of Arts in Psychology and a Master of Education in Professional Counseling: Community Concentration at the University of West Georgia. Before moving into the Associate Director position in Career Services, Sadie acted as Electronic Delivery Counselor in the Counseling Center. Sadie is a Licensed Associate Professional Counselor and a National Certified Counselor. She also has an extensive background in sales, training, and management.

Since 2009, Sadie has been a Certified Myers-Briggs Practitioner, and she is currently pursuing the Myers-Briggs Master Practitioner credential. Not only does Sadie have a passion for using the MBTI® in Career Services, but she also writes a website on using personality type as a college student, faculty member, and staff member. Sadie loves building and improving programs to help students find their passions, learn to know and accept themselves, and use this information to build the brightest future possible.

In her spare time, Sadie enjoys baking, producing artwork, building furniture, and she loves spending time with her husband, two dogs, and cat.
Education/Degrees
M.Ed., Professional Counseling: Community Concentration, University of West Georgia,
B.A., Psychology, University of West Georgia,
Courses and Sections
Courses Taught

UWG-1101 (First Year Univ. Experience)

Fall 2014 Sections

UWG-1101 (First Year Univ. Experience) Section: LCP
General Responsibilities
Professional Associations
Length of Time at the University