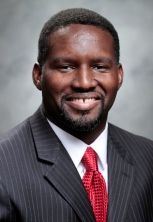 Sam Oduselu
Career Counselor
Phone: 678-839-6431 | Fax: 678-839-6432
Email: soduselu@westga.edu
Office: Row Hall
Biography
As a Career Counselor, Sam Oduselu collaborates with students to help them identify their ideal Career Path and Major by exploring their passions, strengths, and personality type; he then works with them to create a strategic plan to help them transition from college to reaching their career goals. He provides individual and group career counseling sessions. He also delivers several workshops and Presentations on career development, assessments, student leadership and principles for success. Sam Believes that students should aim to do work they love so that they are more engaged in college and preparation for their future careers.
Sam has a passion for helping people do work they love.
In his free time, he loves exercising, reading, and spending time with his wife and kids.
Education/Degrees
M.Ed., Professional Counseling, Career Counseling, Georgia State University,
General Responsibilities
Professional Associations
The National Career Development Association (NCDA)
Length of Time at the University
January 2011