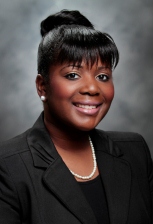 Karen Bussey
Graduate Assistant - Employer Relations
Phone: 678-839-6431 | Fax: 678-834-6432
Email: kbussey1@my.westga.edu
Office: Row Hall
Biography
As the Employer Relations Graduate Assistant for Career Services, Karen provides support to the entire department. Karen is instrumental in working within UWG Career Service's employer relations, career development, and departmental research and assessment areas. Karen is currently pursuing a Master of Education in Professional Counseling with a concentration in College Student Affairs. Prior to joining UWG, she worked in retail operations and merchandising in Charlotte, NC. Karen obtained a Bachelor of Science in Marketing from South Carolina State University.
Education/Degrees
B.S., Marketing, South Caroline State University,
M.Ed., Professional Counseling - College Student Affairs, University of West Georgia, In Progres
General Responsibilities
Verify and update online contact management database. Event marketing (social media, email, campus tv/radio). Develop and analyze event evaluations (employer and student). Conduct student appointments/presentations/workshops on networking, job search strategies, resume writing and WolfWorks. Assist with advising Delta Epsilon Iota (DEI) academic honor society.
Professional Associations
Length of Time at the University
SInce August 2013