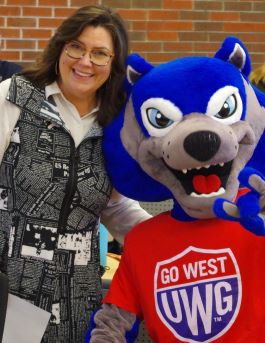 Melissa Jackson, M.F.A.
Instructor
Phone: | Fax: 678-839-4849
Email: mjackson@westga.edu
Office: Pafford Social Science Building 105-A (In Newna
Hours: OFFICE HOURS (appointments recommended) Monday and Wednesday(Newnan Campus): 9am-3pm (by Appointment)Tuesday and Thursday (Carrollton): 9:30-10:50, or by appointment
Courses and Sections
Courses Taught

ENGL-1101 (English Composition I)
ENGL-1102 (English Composition II)
ENGL-2130 (American Literature)

Summer 2016 Sections

ENGL-2130 (American Literature) Section: 91

Spring 2016 Sections

Fall 2015 Sections

Spring 2015 Sections
Education/Degrees
B.F.A., Fine Arts, Painting, Auburn University, 1992
M.F.A., Studio Arts, School of Visual Arts, 1995
M.F.A., Creative and Professional Writing, Converse College, 2012
Biography
Melissa Dickson Jackson is a poet and feature writer. She has published two collections of poetry, Cameo (2011) and Sweet Aegis, Medusa Poems (2013). Recent poems can be found in Shenandoah, North American Review, Bitter Southerner, Southern Humanities Review, Cumberland River Review, Southern Women's Review, Literary Mama, and Gravy from the Southern Foodways Alliance at the University of Mississippi. She is a frequent contributor to Newnan/Coweta Magazine and served as the associate editor of Stone, River, Sky: An Anthology of Georgia Poems released by Negative Capability Press in 2015. She has four grade-school children, cares for a disabled parent, and enjoys the company of her cat and dog.
Selected Publications