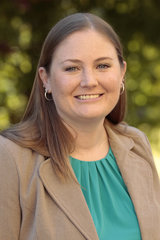 Lynn Pazzani
Assistant Professor of Criminology
Phone: 678-839-6328 | Fax:
Email: lpazzani@westga.edu
Office: Pafford Social Science Building 223
Hours: Monday 10 am to 12 pm
Tuesday 11 am to 5 pm
Wednesday 10 am to 12 pm
Biography
Lynn Pazzani joined the Criminology Department at the University of West Georgia in 2014. She received her Ph.D. in Criminology, Law & Society from the University of California, Irvine in 2011. Her dissertation research was on sexual assault, and focused on the characteristics of an event that would lead someone to classify it as an assault, and how blame is attributed for the event. Her research interests include violence against women, victims of crime, and inequality in the criminal justice system, along with research method and statistics.
Education/Degrees
B.A., Sociology, Reed College, 2003
M.A., Social Ecology, University of California, Irvine, 2005
Ph.D., Criminology, Law & Society, University of California, Irvine, 2011
Courses and Sections
Courses Taught

CRIM-1100 (Intro to Criminal Justice)
CRIM-4003 (Statistics for Social Sciences)
CRIM-4231 (Women & Criminal Justice)
CRIM-4232 (Family Violence)
CRIM-4233 (Gangs)
CRIM-4280 (Violence Against Women)
CRIM-5231 (Women in the Crim Just System)
CRIM-6003 (Applied Stats in Criminology)
CRIM-6013 (Social Research)
CRIM-6342 (Crisis Intervention)

Summer 2016 Sections

CRIM-4231 (Women & Criminal Justice) Section: E01
CRIM-4233 (Gangs) Section: E01
CRIM-5231 (Women in the Crim Just System) Section: E01

Spring 2016 Sections

CRIM-4003 (Statistics for Social Sciences) Section: 01
CRIM-4280 (Violence Against Women) Section: 01
CRIM-6003 (Applied Stats in Criminology) Section: 01

Fall 2015 Sections

CRIM-4003 (Statistics for Social Sciences) Section: 01
CRIM-4232 (Family Violence) Section: E01
CRIM-6013 (Social Research) Section: 01

Summer 2015 Sections

CRIM-1100 (Intro to Criminal Justice) Section: E01
CRIM-4233 (Gangs) Section: E01

Spring 2015 Sections

CRIM-4003 (Statistics for Social Sciences) Section: 01
CRIM-4231 (Women & Criminal Justice) Section: E01
CRIM-6342 (Crisis Intervention) Section: 01