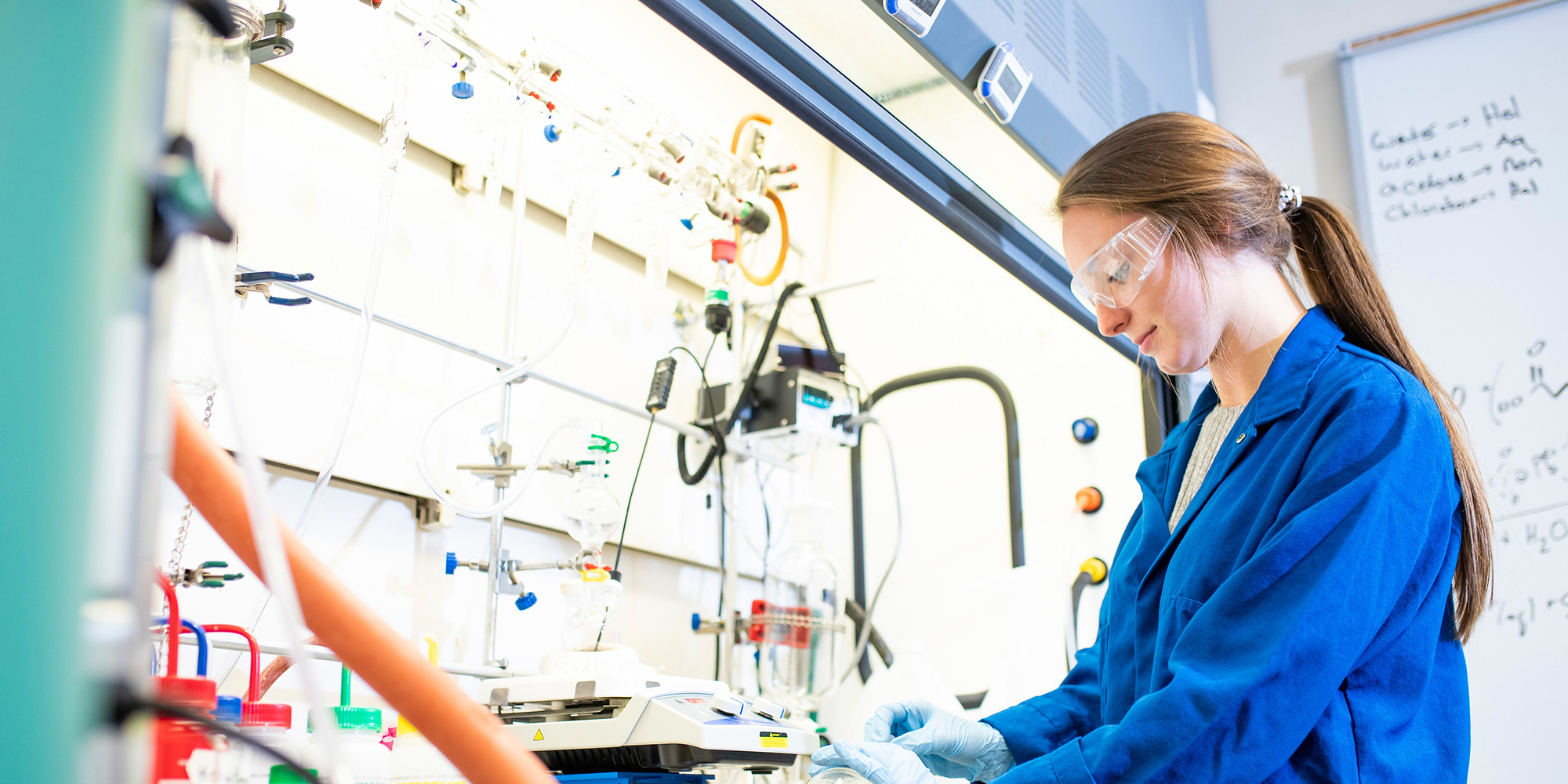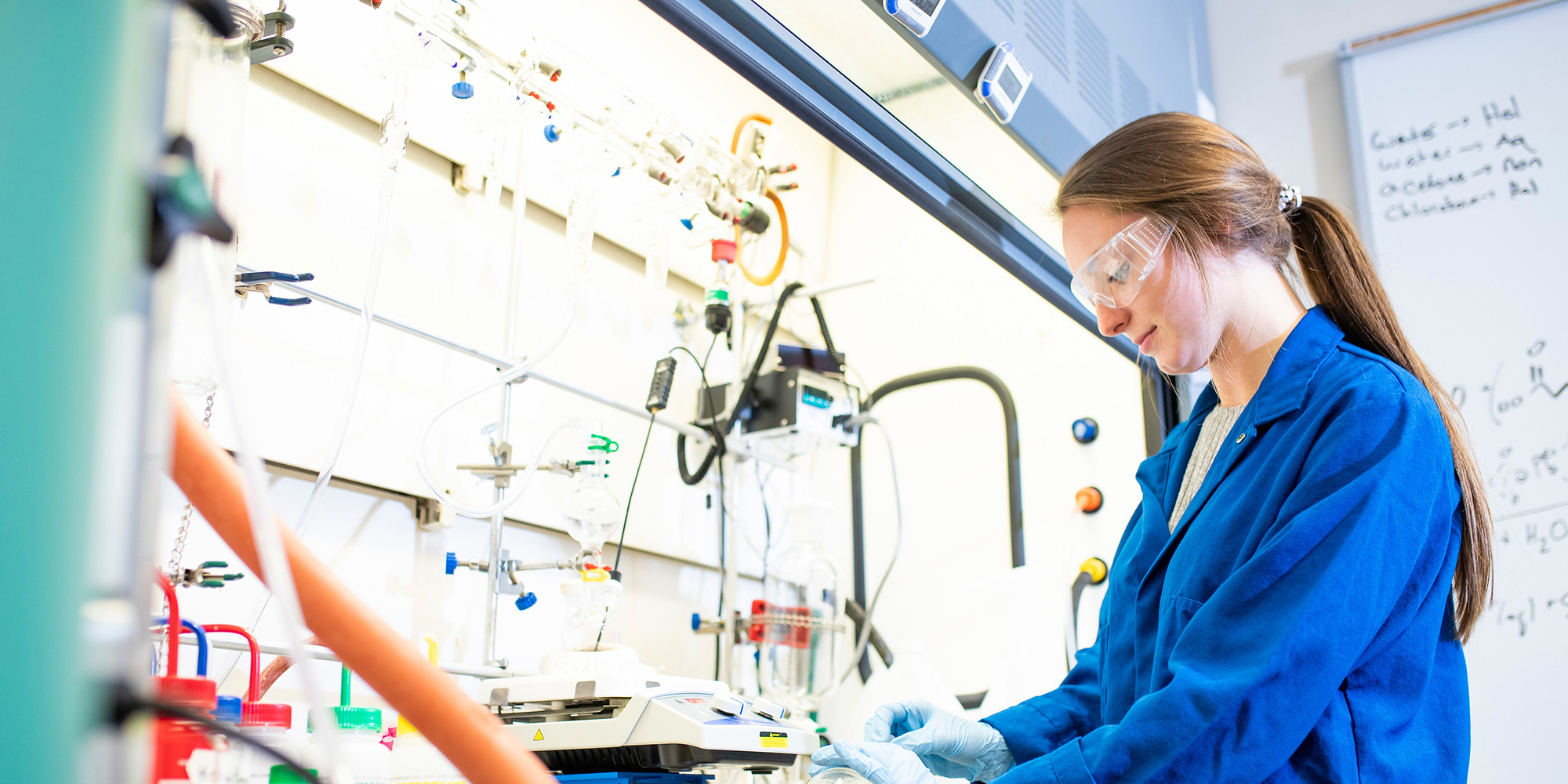 FIND YOUR ELEMENT
Learn to blaze your own path in a diverse, rapidly evolving discipline through hands-on exploration. UWG Chemistry is committed to helping every student find their element and excel in their future career. Regardless of your background or skills in chemistry, we welcome you to our program.
Academic Excellence in a Caring Environment
The researchers and educators of UWG's Chemistry Program are committed to empowering future leaders in science and healthcare through focused mentorship and independent discovery.
Chemists tackle a wide range of modern scientific challenges—they are found at the forefront of efforts to develop new medicines, design advanced materials, and create a green, sustainable world. UWG's Chemistry Program prepares students to work in this dynamic profession through hands-on experience in chemical synthesis, analysis, and experimental design using state-of-the-art equipment and facilities. Here you will be a part of a supportive community working together to foster your growth and success. Faculty mentors will work one-on-one with you to tailor your experience based on your career goals. Many students develop and pursue original research projects under the guidance of a faculty mentor, while others take on paid internships with local industrial partners or work in regional healthcare clinics. Students find many ways to get involved, such as mentoring younger students in peer-led team-learning workshops or performing educational outreach through the UWG Chemical Association.
News & Updates
No items exist for this tag
Land Your Dream Job
Land Your Dream Job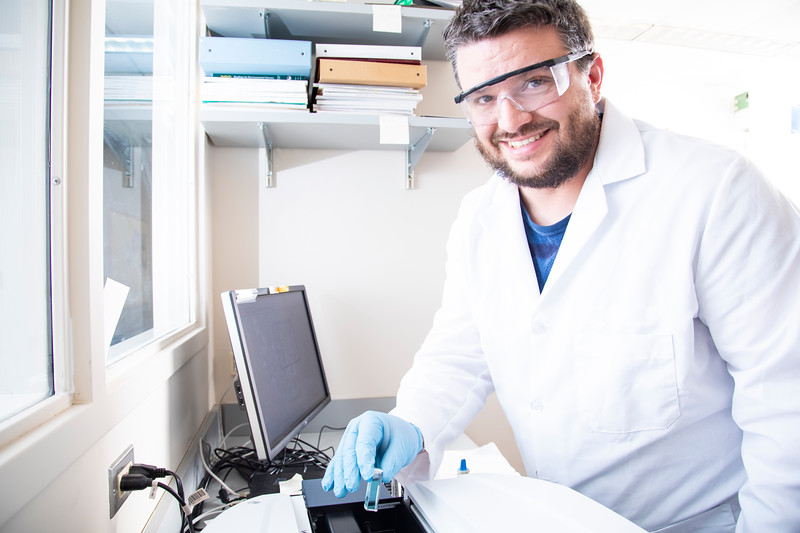 Land Your Dream Job
A chemistry education combines technical knowledge and critical thinking skills with practical experiences in collaboration, teamwork, and leadership. Many chemistry graduates go to work in industrial or government labs at places such as Coca-Cola, Southwire, Kimoto Tech, GBI, and the CDC. Others decide to pursue graduate studies and have been accepted to top graduate programs at institutions such as Berkeley, Yale, Stanford, and Princeton. You can also find many of our alumni working in healthcare professions with their chemistry degree serving as the stepping-stone to medical school or pharmacy school.
Two Chemistry Clubs on Campus
Two Chemistry Clubs on Campus
Two Chemistry Clubs on Campus
UWG Chemical Association 
The club provides various community educational and volunteer outreach opportunities as well as gives chemistry majors the ability to meet other students. You do not have to be a chemistry major to join!
Faculty Advisor: Dr. Martin McPhail 
(mmcphail@westga.edu)
We are an organization that aims to produce the next generation of future healthcare leaders that will strive to change all healthcare fields for the better. Our mission is to serve not only our communitiy, but also other that EHL chapters are integrated into but the global community. Various different service opportunities are provided for our dedicated members.
Faculty Advisor: Dr. Victoria Geisler (vgeisler@westga.edu)


Contact Us
CONTACT US
Location: Technology Learning Center, Main Office, 2nd Floor, East Wing