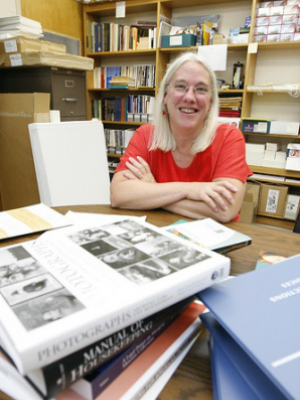 Ann McCleary
Professor and Director of the Center for Public History
Contact info
Technology Learning Center - Room 3211
Office Hours
M 8-10:30 online; Tuesday 1-4, Wednesday 1:30-4:30, in the Center for Public History, and by appointment
Professor and Director of the Center for Public History
Biography
Fields of Specialization: Public History, Museum Studies, American Architecture, Material Culture, Southern History, US Women, Heritage Tourism, History of American Foodways, Folklife, Traditional Music and Craft, and Early American History.
Dr. McCleary's current research focuses on National Park Service history, textile history in Georgia, and cultural heritage tourism. She co-curated a Smithsonian Museum on Main Street Exhibition on rural America, Crossroads: Change in Rural America, which opened in 2018, and she serves as the state scholar for the 2019-20 exhibition tour in Georgia. She is also currently researching and writing about heritage tourism and craft in Malawi.
Dr. McCleary is preparing to teach a Study Away class on cultural heritage interpretation and preservation trip New Mexico in Spring 2020 and a course on Heritage and Tourism for a summer 2021 study abroad trip to South Africa, both offered through the Department of History.
Dr. McCleary coordinates the Public History program and the Museum Studies Certificate program. She co-teaches the courses in Museum Studies with staff at the Atlanta History Center, having worked for many years in the museum community in Virginia and as a museum consultant.
In her role as Director of the Center for Public History, Dr. McCleary directs a variety of research projects focusing on the history and culture of the region and the state, including the West Georgia Textile Heritage Trail and the Regional Music Project. She co-chairs a university committee documenting and interpreting a cemetery for enslaved peoples on the former Thomas Bonner plantation, formerly located on the UWG campus.
Before coming to establish the public history program at the University of West Georgia in 1997, Dr. McCleary worked as an architectural historian with the Virginia state historic preservation office; as assistant director, chief curator, and curator of research and programs at the Museum of American Frontier Culture in Staunton, Virginia; and as a public history consultant.
Education / Degrees
B.A., History, Occidental College, 1976
M.A., American Civilization, Brown University, 1977
Ph.D., American Civilization, Brown University, 1996
Courses Taught

Course Sections and Syllabi

Spring 2021 Sections

HIST-6303 (Museum Educ & Interpretation) Section: E01
HIST-6303 (Educ/Interpretation at Museums) Section: 81
HIST-6580 (American Foodways) Section: E01
HIST-6699 (Thesis) Section: E03

Fall 2020 Sections

HIST-6304 (Exhibits at Museums/Hist Sites) Section: 81
HIST-6699 (Thesis) Section: E03
HIST-6699 (Thesis) Section: E01

Summer 2020 Sections

HIST-4486 (Public History Internship) Section: E01
HIST-6302 (Collections Mgmt in Museums) Section: E01
HIST-6486 (Public History Internship) Section: E01
HIST-6699 (Thesis) Section: E05
HIST-6699 (Thesis) Section: E02
HIST-6699 (Thesis) Section: E01

Spring 2020 Sections

Fall 2019 Sections

Summer 2019 Sections

HIST-4486 (Public History Internship) Section: E01
HIST-6302 (Collections Mgmt in Museums) Section: 81
HIST-6486 (Public History Internship) Section: E01
HIST-6699 (Thesis) Section: E01

Spring 2019 Sections

Fall 2018 Sections

HIST-4485 (History of American Foodways) Section: E02 Download Syllabus [PDF]
HIST-6304 (Exhibits at Museums/Hist Sites) Section: 81
HIST-6687 (History of American Foodways) Section: 01 Download Syllabus [PDF]
HIST-6699 (Thesis) Section: E01
HIST-6699 (Thesis) Section: E02

Summer 2018 Sections

HIST-4486 (Public History Internship) Section: E01
HIST-5404 (Hist of American Architecture) Section: E01
HIST-6283 (Continuing Research) Section: E01
HIST-6486 (Public History Internship) Section: E01
HIST-6699 (Thesis) Section: E05
HIST-6699 (Thesis) Section: E01

Spring 2018 Sections

Fall 2017 Sections

Summer 2017 Sections

HIST-4486 (Public History Internship) Section: 81
HIST-4486 (Public History Internship) Section: 81D
HIST-6302 (Collections Mgmt in Museums) Section: 81 Download Syllabus [PDF]
HIST-6304 (Museum Exhibits) Section: E01
HIST-6486 (Public History Internship) Section: 01D
HIST-6486 (Public History Internship) Section: 81
HIST-6699 (Thesis) Section: N01
HIST-6699 (Thesis) Section: 01D

Spring 2017 Sections

Fall 2016 Sections

HIST-4486 (Public History Internship) Section: 01D Download Syllabus [PDF]
HIST-4486 (Public History Internship) Section: 01 Download Syllabus [PDF]
HIST-6203 (Studies/Rsrch in Amer Folklife) Section: 01 Download Syllabus [PDF]
HIST-6304 (Exhibits at Museums/Hist Sites) Section: 81 Download Syllabus [PDF]
HIST-6486 (Public History Internship) Section: 01
HIST-6486 (Public History Internship) Section: 01D
HIST-6699 (Thesis) Section: 01D
HIST-6699 (Thesis II) Section: 02D

Summer 2016 Sections

HIST-4486 (Public History Internship) Section: 01
HIST-6486 (Public History Internship) Section: 01D
HIST-6486 (Public History Internship) Section: 01
HIST-6699 (Thesis) Section: 01D

Spring 2016 Sections

HIST-4486 (Public History Internship) Section: 01
HIST-6202 (Thry/Mthd Material Cult Stdy) Section: 01 Download Syllabus [PDF]
HIST-6486 (Public History Internship) Section: 01
HIST-6687 (Intro to Public History) Section: 02 Download Syllabus [PDF]
HIST-6699 (Thesis) Section: 01D

Fall 2015 Sections

Summer 2015 Sections

HIST-4486 (Public History Internship) Section: 01
HIST-6302 (Collections Mgmt in Museums) Section: 81
HIST-6486 (Public History Internship) Section: 01
HIST-6699 (Thesis) Section: 01
HIST-6699 (Thesis) Section: 05

Spring 2015 Sections

Publication List

"The First National Historic Site Dedicated to a Poet," A History of the Carl Sandburg Home National Historic Site, 1968-2008, with Donna Z. Butler. National Park Service, 2016.

West Georgia Textile Heritage Trail, with Margaret P. Adams. Arcadia Press, 2015.

Crossroads: Change in Rural Georgia, with Crystal Shelnutt, Micah Walsh, and Tanisha Matthews. Georgia Humanities, 2019

"Creating a Wood Carving Tradition in Malawi," with Emma Kelley Bussard in Elizabeth Garber, Lisa Hochtritt, and Manisha Sharma, editors, Makers, Crafters, Educators: Working for Cultural Change, New York: Routledge, 2018

"Women and Girls in the Virginia Home Demonstration Program: Developing Leaders and Strengthening Communities," in Cynthia Kierner and Sandra Treadway, Virginia Women: Their Lives and Times Volume II, University of Georgia Press, 2016.

"The Turnpike Towns," in The Great Valley Road of Virginia, edited by Warren R. Hofstra and Karl Raitz, University of Virginia Press, 2010.

Waves of Time, Liberian National Museum, in The Public Historian, Vol 41, August 2019, No. 3, with Emma Kelley Bussard.

Food, Family, and Community: A Collection of Georgia Memories. (Georgia Humanities Council, 2008).

"Negotiating the Urban Marketplace: Farm Women's Curb Markets in the 1930s," in Vernacular Architecture Forum Perspectives, summer 2007.

"Powder Springs Has Some Deep Roots In It": An Oral History Portrait of an African American Community, with Catherine Hendricks and Stephanie Wright, published by the Center for Public History, University of West Georgia, May 2007.

"From Old-Time Country to Gospel: Preserving the Music Traditions of Western Georgia," Georgia Music Magazine, Summer 2007.

"Seizing the Opportunity: Home Demonstration Curb Markets in Virginia," in Melissa Walker and Rebecca Sharpless, Work, Family, and Faith: Rural Southern Women in the Twentieth Century (Missouri, 2006).

"Developing Collaborative Public History Projects," with Pam Meister in Perspectives, February 2005.

"Forging a Regional Identity: The Development of Rural Vernacular Architecture in the Central Shenandoah Valley, 1790-1850," in Kenneth Kooks and Warren Hofstra, editors, After the Backcountry, University of Tennessee Press, 2000.

"Changing Times: Stories and Images of Carroll County through the Twentieth Century," Georgia Heritage, Spring 2000.

"Franklin Delano Roosevelt, Warm Springs, and the New Deal in Georgia" and the "Eleanor Roosevelt School" in Cotton Mills, Planned Communities, and the New Deal: Vernacular Architecture and Landscapes of the New South, Vernacular Architecture Forum, May

"'A Highly Prosperous Village:' A History of Mt. Sidney," Augusta County Historical Bulletin, Augusta County Historical Society, Fall 1998.

"Home Demonstration Women Go to Market," Augusta County Historical Bulletin, Augusta County Historical Society, May 1998.

"Ethnic Influences on the Early Architecture of the Shenandoah Valley," in Michael Puglisi, Diversity and Accommodation: Essays on the Cultural Composition of the Virginia Frontier, University of Tennessee Press, 1997.

"Portrait of a River Town: Port Republic, Virginia," Potomac Chronicle I, Vol 1, Winter 1995.

"Folklore of Games: Classroom Suggestions," Stitches: Newsletter for the Appalachian Teachers' Network, April 1993.

"Improving the Country Home: Elsie Moffett, the Tuesday Club, and the Establishment of Home Demonstration Work in Augusta County," Augusta County Historical Bulletin, Spring 1993.

"The Plecker-Wise House," Augusta County Historical Bulletin 26, Fall 1990.

"Augusta County Schools Selected for State's First Thematic Nomination," Notes on Virginia, Virginia Department of Historic Resources, Spring 1985.

"Public Education in Augusta County, Parts I-III" Augusta County Historical Bulletin, Spring 1985, Fall 1985, Spring 1986.

"Preach a Little, Paint a Little, and Drink a Little: The Work of Green Berry Jones," Augusta County Historical Bulletin, 1986.

The Shenandoah Valley Regional Preservation Plan, Virginia Department of Historic Resources, Richmond, VA, 1985.

Historic Resources of Augusta County, Virginia, Eighteenth Century to Present, Virginia Department of Historic Resources, 1983.

"Doing the Carpentry and Joiners Work," Augusta County Historical Bulletin, Spring 1983.

"Old Houses of Augusta County," Augusta County Historical Bulletin, Fall 1983.

"Vernacular Architecture and the Archaeologist," Proceedings from the Conference on Uplands Archaeology, James Madison University, 1983.

"Domesticity and the Farm Woman," Perspectives in Vernacular Architecture I, University of Missouri Press, 1982.

Other Information

Current Center for Public History Projects

West Georgia Textile Heritage Trail

University History Project

"Along the Ridge:" Reflections on a Nineteenth Century Cemetery on the University of West Georgia Campus

Regional Music Project

National Park Service Projects

Ocmulgee National Historic Site Administrative History, 2019-2021

Chattahooche River National Recreation Area Administrative History, 2017-2020

Special Study of African Americans at Andersonville National Historic Site, 2017-2020

Flexible Park Base Archives Cataloging Program, 2016-present

Integrated Pest Management Plan Implementation at Cane River National Historic District, 2016

Improve Exhibits for Museums and Archival Collections at South Florida Collecitons Management Center. 2016

Carl Sandburg Home National Historic Site Collections Management Training, 2015

Great Smoky Mountains Archives Management. 2016-2019

Jimmy Carter Boyhood HOme Archival Collection Management, 2014

Catalog and Describe Carl Sandburg's Archives. 2014-17

Nationa Register Documentation for Hyde Farm and Island Ford Lodge. 2021-5

Trail of Tears Interpretation and Protection, 2012-4