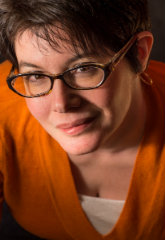 Molly Breckling, Ph.D.
Limited Term Instructor of Music
Contact info
Humanities Building - Room 316
Office Hours
By appointment
Limited Term Instructor of Music
Biography
Molly M. Breckling is a fixed-term Instructor of Music History at the University of West Georgia. She earned her Ph.D. in musicology at the University of North Carolina at Chapel Hill in 2010 with a dissertation entitled Narrative Strategies in Gustav Mahlers Balladic Wunderhorn Lieder. She also holds three Masters degrees: in vocal performance from Austin Peay State University in Clarksville, TN, in music history from the University of Wisconsin at Madison, and in musicology from UNC-Chapel Hill. She has worked as an online adjunct professor of Music Appreciation at Austin Peay State since 1998 and actively maintains a website at www.appreciatethemusic.com, which explores issues of music reception, history, and pedagogy. Her research interests include German late-Romantic art song, particularly that of Gustav Mahler, and opera, English lute song, and popular music.
Courses Taught

Course Sections and Syllabi

Fall 2020 Sections

MUSC-1100 (Music Appreciation) Section: E91
MUSC-1100 (Music Appreciation) Section: E03
MUSC-1100 (Music Appreciation) Section: 1IG
MUSC-1110 (Survey of World Music) Section: E02
MUSC-1120 (Surv of Jazz, Rock, & Pop Mus) Section: E01
MUSC-3701 (Western Music Before 1800) Section: E01

Summer 2020 Sections

MUSC-1100 (Music Appreciation) Section: E01
MUSC-6083 (Research Methods and Materials) Section: E01
MUSC-6210 (Music History and Literature) Section: E01

Spring 2020 Sections

Fall 2019 Sections

Summer 2019 Sections

MUSC-1100 (Music Appreciation) Section: E01
MUSC-1100 (Music Appreciation) Section: E02
MUSC-6210 (Music History and Literature) Section: E01

Spring 2019 Sections

Fall 2018 Sections

Summer 2018 Sections

MUSC-1100 (Music Appreciation) Section: E01
MUSC-6083 (Research Methods and Materials) Section: E01
MUSC-6210 (Music History and Literature) Section: E01

Spring 2018 Sections

Fall 2017 Sections

Summer 2017 Sections

MUSC-1100 (Music Appreciation) Section: E01

Spring 2017 Sections

Fall 2016 Sections

Spring 2016 Sections

Fall 2015 Sections

MUSC-1120 (Surv of Jazz, Rock, & Pop Mus) Section: 01
MUSC-3701 (Western Music Before 1800) Section: 01
MUSC-6083 (Research Methods and Materials) Section: E01