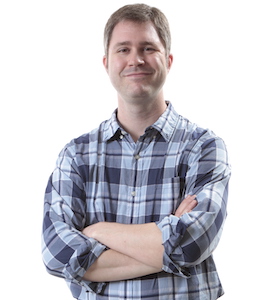 Lewis Baumstark, Ph.D.
Associate Professor
Contact info
Technology Learning Center - Room 2-215
Office Hours
Mon: 9:30a - 11a, 12:30p - 2p, 3:20p - 4p
Wed: 9:30a - 11a, 12:30p - 2p, 3:20p - 4:30p
Tues/Thurs: 9:30a - 12p, 1p - 3:30p
Fri: online office hours most of the day -- email first to notify me
Associate Professor
Biography
Dr. Baumstark's research interests are in physical computing, software reverse engineering, and computer architecture.Dr. Baumstark has a habit of picking up new hobbies without properly retiring the old ones. He enjoys (or has enjoyed) video games, woodworking, robotics, reading, collecting Star Wars memorabilia, sci-fi movies, and going to new restaurants with old friends.
Education / Degrees
B.S., Electrical and Computer Engineering, Tennessee Technological University, 1998
M.S., Electrical and Computer Engineering, Georgia Institute of Technology, 2001
Ph.D., Electrical and Computer Engineering, Georgia Institute of Technology, 2004
Courses Taught

Course Sections and Syllabi

Summer 2018 Sections

Spring 2018 Sections

Fall 2017 Sections

Summer 2017 Sections

Spring 2017 Sections

Fall 2016 Sections

Summer 2016 Sections

Spring 2016 Sections

Fall 2015 Sections

Summer 2015 Sections

Spring 2015 Sections