Congratulations Chapel Hill High School class of 2016!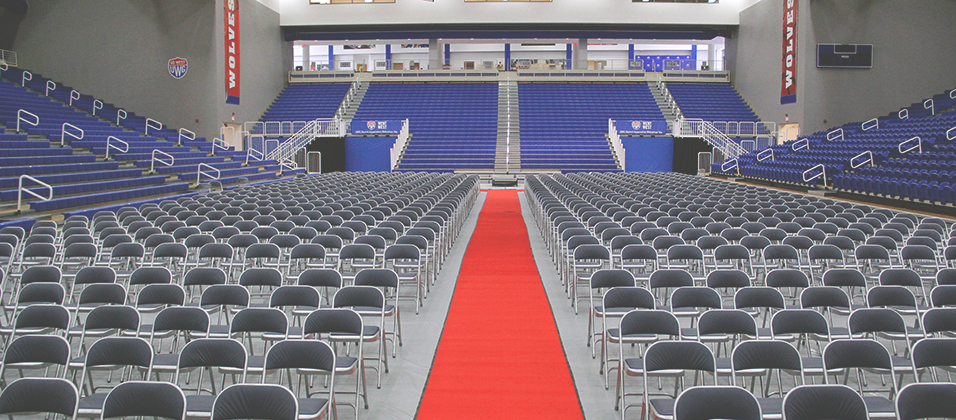 The Coliseum is excited to host your Panthers as they walk across the stage, signifying the end of their journey through high school! Congratulations to all of the students graduating, as well as to the families and friends who have supported them along the way. It is an honor to host this event as the leaders of the future walk through our doors!
If you have any questions concerning the ceremony or the facility, please feel free to contact us at 678-839-5105, by email at coliseum@westga.edu, or via any of our social media outlets: Facebook, Twitter, and Instagram.
We hope your visit is enjoyable and that we will see you many times more at The Coliseum!
Details
Date: Friday, May 20, 2015
Doors Open: 6:00 PM
Ceremony Starts: 7:00 PM
Ticketing Information: Please contact Chapel Hill High School for information on how to obtain tickets to the event. Every person entering the facility will need a ticket.
Video Information: The ceremony will be streaming live on your school's website. For copies of the ceremony, please contact your school.
Seating: Seating Chart
Parking: Parking will be on a first come first served basis. All open space at UWG will be made public parking. There will be a shuttle service throughout the entire campus. For more information about directions and parking, please visit our Parking and Directions page.
School Website: Chapel Hill High School
FAQ
Where can I park?
Parking for graduation ceremonies can often be hectic; therefore, it is extremely important to follow the direction of all event staff personnel.
Parking will be available in The Coliseum parking lot, the Tyus Hall parking lot, and the Bookstore parking lot. There will be a shuttle service provided throughout the day that will take guests from their parking lot to The Coliseum.
Where can I sit?
The Coliseum offers 14 sections of seating for graduation ceremonies! Most of the seating is standard bleacher seating; however, on the North side of the arena, the lower levels contain chair-back seating.
ADA seating is located along the top of the concourse. If you or a member of your party require ADA seating please feel free to speak with one of our Operations Assistants in the red shirts.
What can I bring?
The Coliseum is devoted to providing the best possible experience for all graduates and families attending the graduation ceremony. In order to do so, the following items are prohibited in The Coliseum:
Noisemakers/Air horns

Balloons

Signs larger than 8.5" x 11"

Outside food or beverages

Alcohol

Tobacco

Mace

Hoverboards
Please help us create a positive experience for everyone on this special day!
Will there be food?
Concession stands are located on the Northwest and Southeast corners of The Coliseum and will be in operation throughout the graduation ceremony. The concession stand on the Southeast is cash only while the Northwest concession accepts card or cash.