The University of West Georgia continues to improve its ranking, according to the latest U.S. News & World Report released on Wednesday, Sept. 9. The national report ranked UWG 42nd in the Public South Regional University category, an increase from the 47th spot last year, and 87th in the overall South Regional University category, up from last year's ranking of 92nd.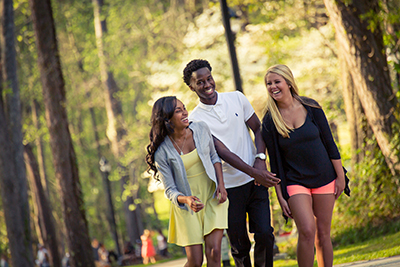 "It is always exciting to see our placement in U.S. News & World Report, as these rankings recognize our quality programs and the work of our talented faculty and staff," said Dr. Kyle Marrero, president of UWG. "We remain dedicated to student success, and these rankings are an indication of this commitment as we endeavor to become the best comprehensive university in America, sought after as the best place to work, learn, and succeed."
UWG's overall score increased six points, and its position in the national ranking was helped by its rather impressive freshmen retention rate of 72 percent. Other indicators used to measure academic quality include: peer assessment, retention and graduation of students, faculty resources, student selectivity, financial resources, alumni giving, and graduation rate performance.
"UWG faculty and staff continue to work hard at creating an excellent campus environment for students both in and out of the classroom," said Dr. Scot Lingrell, UWG vice president for Student Affairs and Enrollment Management. "The increased ratings are a testament to sustained efforts to provide an excellent culture where our students can thrive and succeed."
UWG was also ranked 79th for 2016 Best Online Programs. In January of this year, U.S. News & World Report ranked UWG's online graduate computer information technology program 16th in the nation, in addition to a ranking of 41st in online graduate nursing, 44th in online MBA, and 75th in online graduate education.
"The ongoing and continued ranking of the University of West Georgia's online programs is testament to a more than 17-year commitment by UWG faculty to provide innovative and quality experiences for adult learners and other populations," said Dr. Melanie Clay, executive director of Extended Learning and dean of USG eCore. "We continue to pioneer affordable models that focus on individual student needs, integrity, and degree completion. A thoughtful and steady building of these programs, within the framework of a traditional university, has enabled our online students to earn highly respected and valuable degrees."
To see the complete rankings, visit www.usnews.com/education.
Posted on