A historic run for UWG baseball - which included the team's best undefeated start in the modern era and Coach Skip Fite's 900th career win - earned the Wolves the ninth spot in the first national regular season poll.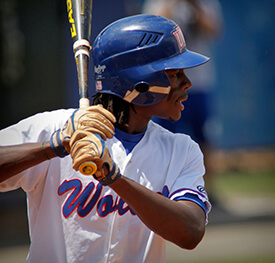 The ranking by the National Collegiate Baseball Writers of America (NCBWA) is the highest for a West Georgia team under head coach Skip Fite, who is in his ninth season with UWG. Fite recently notched his 900th win during the Wolves 10-0 run, the team's top season-opening record in more than 50 years.
The best start of all time happened in 1964, when West Georgia, powered by three current UWG Athletic Hall of Fame members, opened the season with a 15-0 start before finishing the year at 17-2.
West Georgia suffered its first loss on Feb. 21 after a huge third inning for Columbus State, which crossed the plate seven times, including a three-run and two solo homers.
On the season, the Wolves have outscored their opponents by a 123-42, hitting .334 as a team and giving up a batting average of .227 to their opponents in that same span. Six starters in the field have a batting average of .324 or better and seven of the starters in the field have at least 10 RBI in the first 10 games. On the mound, three different pitchers have at least 14 innings pitched thus far, with all four of those coming into the 11th game of the year with a 3.60 ERA or better. As a team, the Wolves have an ERA of 3.35 on the season.
Three teams from the South Region are ranked in this week's NCBWA top-10, led by fourth-ranked Florida Southern, the only other undefeated team in the South Region. Delta State was the top-ranked team in the preseason rankings, dropping to sixth, then West Georgia joined those two as the three top-10 South Region teams.
Posted on