by Summer Rand
As former recipients of the Improving Teacher Quality Grant, University of West Georgia professors Danilo Baylen, College of Education, and Joseph Hendricks, College of Science and Mathematics, have been awarded the grant once again and will be using it to host a workshop specifically targeting Title One schools with low science scores on the Georgia Milestone.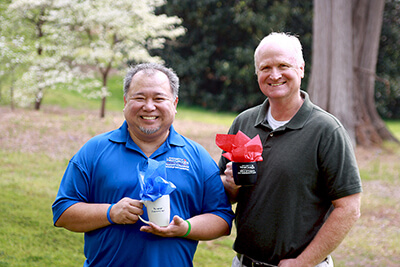 According to the University of Georgia's College of Education, the purpose of each grant is to plan and conduct professional learning experiences with the goal of strengthening and deepening teachers' content knowledge in their academic subjects with an emphasis on how deepened content knowledge impacts teaching practices and student learning.
In accordance with those objectives, the professors will be working together to give 15 kindergarten through fifth-grade teachers a firm foundation in the basics of ecosystems as well as introduce them to key concepts and field experiences over the course of five days.
"We're teaching them about the ecosystem that's in their backyard, starting with the types of plants there, the soils, the animals and how they function," Hendricks said. "We use our backyard as our strawman starting point, and then when we have that base, we will compare different ecosystems around the state."
According to Baylen, the uniqueness of this particular grant lies in the fact that it's a collaboration between an educator and a content expert. Using his scientific background, Hendricks focuses on developing the lessons that they teach, while Baylen uses his background in education to help translate the material into terms better suited to the teachers and their classrooms.
"Danilo showed up in my office one day and said, 'I have an idea,'" Hendricks recalled. "He had found my name on the website and knew that I was an ecosystem type of person. He wanted to develop a workshop because when you look at the K-5 teaching standards, there's a lot in there that relates to Georgia's ecosystems. He brought his background with teacher quality and wanted me to join in as a teammate."
The professors' program is successful thanks to their differing backgrounds, which allows them to establish a connection between the teachers and the material by using themselves as intermediaries.
"We get to hear each other's point of view, and then we come up with a common denominator," Baylen said. "The teachers will be able to enjoy and appreciate the experience, and then they will be motivated to translate it to their classrooms."
However, nothing good comes without hard work, dedication, and a bit of elbow grease. In order to earn the $38,047 grant, Baylen and Hendricks submitted a proposal that proved the target group's need for the program, as well as outlined the program's goals, activities and expected outcomes. Despite the work, it was the benefits Baylen and Hendricks previously saw that pushed them to go for a renewal of their former grant.
"I've played around with different ideas and collaborated with different people," Baylen added. "It seems like we had a good experience with this one last year, so we went for a renewal."
A minimum of 12 participants is necessary in order to do the workshop, and with 10 confirmations so far, the professors are close to reaching their goal. However, the grant permits funding for 15, and with 28 people who have applied, they're certain to have to turn people away. With so many eager teachers, Baylen and Hendricks are hopeful to recreate last year's lively atmosphere.
"There was a real synergy," Hendricks said. "There's a lot of exchange, a lot of dynamics going on. They just kind of evolve. It's really good because you're talking about people who are out there in the trenches and they're sharing their stories of what worked and what didn't."
Posted on