by Bonnie Butcher
On Thursday, April 13, the University of West Georgia held its annual Big Night, an evening of student scholarship. The event recognized and celebrated the dedicated students involved in faculty-sponsored undergraduate research. This was a record-breaking year for Big Night, with nearly 60 poster presentations.
"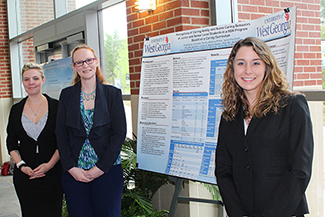 Big Night is a celebration of the research and creative efforts of our students, work that usually takes place 'behind the scenes' of the day-to-day experiences of our students," said Dr. Nicholas Sterling, emcee and assistant professor in the Department of Physics. "This evening highlighted the talent of our student body, and of the students that go above and beyond in their education."
Research Day, held at the end of March, included each UWG college represented by their brightest undergraduates. Students presented their projects to a panel of judges in a university-wide competition, and the first place winners from each college moved on to present at Big Night.
This opportunity for research offers invaluable experience for students to further investigate their topics of interest and future careers. Presentations at Big Night included research from a wide range of areas, from nurse caring behaviors to element abundances in planetary nebulae.
The night also included a poster exhibition in the Campus Center. Family, friends, faculty, and community members gathered to view and discuss students' imaginative research posters.
"It was truly impressive to see the scope and depth of the research and creative work carried out by our students," said Dr. Sterling. "We had seven outstanding talks and nearly 60 posters, which is a record. I congratulate the students who took part, and thank those who organized such a wonderful evening."
Big Night Student Presentations
College of Arts and Humanities: Humanities
1st place: Abbie Driver
"Embracing Linguistic Difference: Creating a Beneficial Standard English Educational Experience for Non-Standard Speakers"
Faculty Sponsor: Dr. David Newton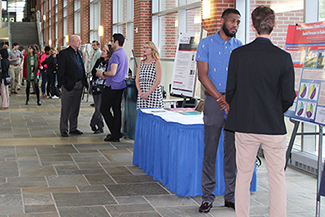 College of Arts and Humanities: School of the Arts
1st Place: Myles Wright
"The Colored Museum," by George C. Wolffe
Faculty Sponsor: Dr. Adriano Cabral
College of Education
1st Place: Lindsey Kelley
"A Journey to the Home of Understanding: Walking the Footsteps of the Homeless"
Faculty Sponsor: Dr. Yan Yang
College of Science and Mathematics
1st place: Amanda Mashburn
"Element Abundances in Planetary Nebulae from Deep Optical Echelle Spectroscopy"
Faculty Advisor: Dr. Nick Sterling
College of Social Sciences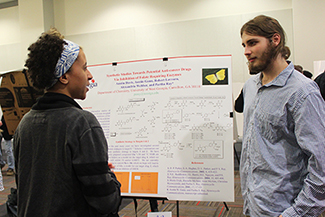 1st place: Micayla Hersey
"Voter Registration: The Case for the Eric System"
Faculty Advisor: Dr. Soohoo Lee
Richards College of Business
1st place: Brittany Benefield
"Estimating the Impact of State Film Tax Credits"
Faculty Sponsor: Dr. Hilde Patron
Tanner Health System School of Nursing
1st Place: Angelique LaCavera-Torres, Brianna Prince, and Samantha Smith
"Perceptions of Caring Ability and Nurse Caring Behaviors of Junior and Senior Level Students in a BSN Program Based on a Caring Curriculum"
Faculty Sponsor: Linda A. Mason Barber, Ph.D., RN, ANP-C
Posted on