Weather Update:
The safety of our students and their families during this time of accomplishment and celebration is paramount in light of the extreme weather circumstances affecting metro Atlanta and the west Georgia region.
Given the most recent weather and road condition updates, UWG is rescheduling commencement exercises for Sunday, December 10. Commencement ceremonies will begin at 2 p.m. for graduates of the Richards College of Business, the College of Education and the School of Nursing and 6 p.m. for graduates of the College of Arts and Humanities, the College of Science and Mathematics and the College of Social Sciences.
As this is an important celebration of accomplishment for our graduates, we want to make sure all of their families and guests will be able to attend safely and see their loved ones graduate. All tickets will be honored and we expect ample room for all attendees.
Thanks for your patience as we have worked to safely recognize and honor our graduates.
The University of West Georgia's fall commencement ceremonies will be held Sunday, Dec. 10, at 2 p.m. and 6 p.m. in the UWG Coliseum. The events cap off a semester that boasted the eighth consecutive year of record enrollment and historic levels in the median grade point average and SAT scores of incoming freshmen.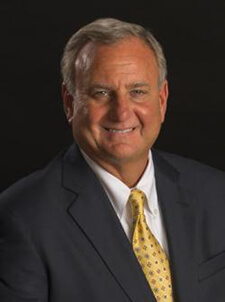 The morning ceremony will feature graduates from the College of Education, the Richards College of Business and the Tanner Health System School of Nursing. The afternoon ceremony will include graduates from the College of Arts and Humanities, the College of Science and Mathematics and the College of Social Sciences.
Rich Stinson will be the keynote speaker for both ceremonies.
Stinson is president and CEO of Southwire. He joined Southwire in October 2015 and, in his current role, leads the company's strategy and efforts toward sustaining a multi-generational future.
Stinson retired from Eaton Corporation in August 2015 as group president of electrical systems and services. In that role, he was responsible for seven product divisions, which offered a comprehensive portfolio of services for every stage of a power system's life cycle, including design, build and support.
Starting in the Westinghouse Manufacturing Development Program for projects in Puerto Rico, Stinson served with Westinghouse in multiple disciplines, such as engineering, manufacturing and supply chain, before joining Eaton.
There, he worked in a variety of roles, including plant manager, operations director and general manager of various facilities in the United States, Japan and Mexico.
As a vice president, he led Eaton's power distribution assembly, industrial controls, electrical assembly and power distribution divisions.
Stinson has more than three decades of experience in industrial manufacturing and holds a bachelor's degree in engineering from the University of Pittsburgh.
He serves on the boards of the National Electrical Manufacturers Association (NEMA), International Cable Federation (ICF), Copper Development Association, Carroll Tomorrow, University of West Georgia Richards College of Business, University of Pittsburgh Electrical and Computer Engineering School and the Board of Governors for the state of Georgia.
Posted on