by Colton Campbell
When Taylor Smith was 13 years old, his dad told him he wanted his son to use his brain, not his body, to be successful.
Play video
These students are not just the first in their families to graduate college. They're trailblazers.
Smith's father, a tradesman since he was 18 years old, had regular issues with his back and hands. Unfortunately, because of a tragic accident in 2008, Smith's father won't be in attendance at the University of West Georgia's spring commencement ceremony in which his son will become the first person in his family to receive a college degree.
Even though his father won't be there in body, Smith knows he'll be there in spirit.
"What he told me stuck with me during the difficult times of college," Smith said. "As I earn my dual-seal bachelor's degree in management and marketing, I know I'm setting up myself and my future family for success. I am truly proud of my accomplishments and know all my hard work will pay off in the long run."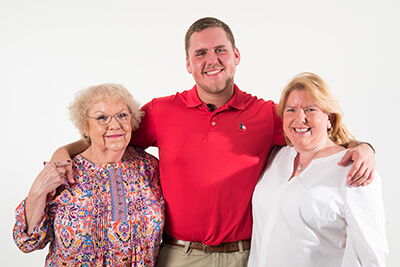 Smith, president of the UWG Blue Coats, said he's also proud to have integrated himself into the UWG campus as a first-generation college student and established a reputation for hard work, dedication and diligence.
"Coming to UWG has given me so many opportunities I never thought I would have," Smith said. "In all of my involvement, West Georgia has truly shaped me into the man I am today. In short, my time as an undergraduate has been filled with memories, friendships and once-in-a-lifetime opportunities. As a first-generation college student, I could not have asked for more."
Smith is one of many first-generation students who are graduating from UWG this week. These students often find challenges when attending postsecondary education by not having the same level of familiarity with the college experience as students whose parents attended college.
Figuring out how to do a lot of things on her own was one of the many challenges Lucero Delgado faced when she started college. The second of four children, Delgado's family migrated to the U.S. from Mexico in search of a better future.
"According to my parents, I was going to go to college, I was going to do extremely well, and I was going to figure out how to pay for it myself," Delgado said. "With that expectation embedded in my mind, I did exactly that."
No one in Delgado's family graduated from high school, let alone college. She said she had a lot of pressure to do well.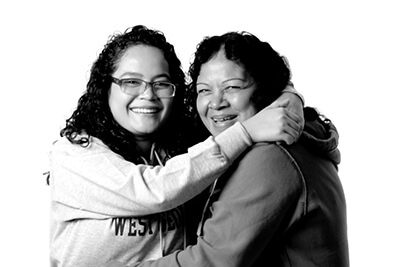 "With the humble upbringing we had, I always knew I wanted to give myself and my parents a more comfortable lifestyle," said Delgado, who graduates with a degree in finance later this week. "My parents worked tirelessly to instill a strong work ethic in all of their children. Therefore, getting a post-secondary education had become my ultimate goal at a very young age."
Through extensive research and some incredible teachers who helped guide her along the way, Delgado came across UWG.
"UWG is a school that offers limitless opportunities and really gave me a chance to flourish," Delgado said. "I knew this was the perfect choice for me."
Delgado also had some advice for prospective students who would be the first in their families to attend college, telling them to embrace the challenges and to not be afraid to fail every once in a while.
"Being a first-generation college student means having many questions to which you may not have the answers," she said. "It means having to work twice as hard. It means having doubts and uncertainties at times, but it means that much more when you make it through."
First-generation students also face other challenges. Scottlin Smith, who's graduating this week with a degree in mass communications, said she often worried about her family and their lives while she was studying at UWG.
"I realized something, though," Smith said. "Everything that's at home will always be there. I have to better myself if I want to help others around me. In order to help your loved ones grow, you have to grow yourself. So I took a step back and focused on the bigger picture of how great an outcome this could be for my nieces and nephews to see their Auntie Scottlin graduate."
Smith started a new organization – Love Travels – during her time at UWG. Love Travels is a student-driven service organization that hosts and attends numerous service events. The group traveled to Ichmul, Mexico, over spring break to provide medical help, distribute clothes and help with other service projects.
Love Travels also hosts an annual event – Belles of the Ball – that ensures every high school girl can attend prom no matter their socio-economic background, providing free prom dresses. Smith said the number of high-schoolers helped in the first year of the event was 50 students. That number had grown to 250 students helped at the most recent event.
"I knew it was hard for my mom when I was coming through high school to pay for everything," said Smith, who's the youngest of six children in her family. "I wanted to help take some of that burden off families in our area. It's about more than just dresses, too. We use the event to promote post-secondary education and give the girls who attend more confidence to think about life after high school."
As for advice for prospective first-generation students considering attending college, Smith has three words: "just do it."
"Some people psych themselves out and think they can't do it because they won't have the same level of familiarity or guidance that students whose parents went to college will have," Smith said. "You can't worry about that. You have to take a leap of faith and better yourself. Even though you'll get a lot of your education, it's so much bigger than you. You're raising the bar for everyone in your family."
Posted on