by Julie Lineback
Georgia Trend has named University of West Georgia President Dr. Kyle Marrero to its annual list of 100 Most Influential Georgians. Marrero joins top business, political, and cultural leaders in the state. This is his first appearance on the competitive list.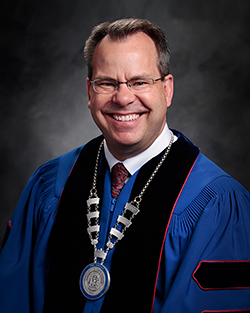 "To be named one of the 100 most influential Georgians is both a tremendous honor and a tremendous responsibility," Marrero said. "It means that people are watching UWG—and expecting great things from us. I believe we will deliver on those expectations."
Marrero joined UWG in 2013. In his 18 months as president, his accomplishments include the development and implementation of a new strategic plan, the implementation of its first leadership development program, and an expansion of student-business partnerships. Enrollment also increased under his watch as UWG experienced a 2.3 percent growth for the Fall 2014 semester.
"Our vision is to be the best comprehensive university in America and we work to reach that goal every day by empowering student success; ensuring academic quality, innovation and distinction; developing and forming valuable partnerships that expand economic development; and embedding effective operation across campus," Marrero added. "We continue to become an institution sought after as the best place to work, learn, and succeed and I am proud to serve as president."
Other higher education officials joining Marrero on the list include University System of Georgia Chancellor Hank Huckaby, who was also honored as Georgian of the Year; Georgia Regents University President Ricardo Azziz; Georgia State University President Mark Becker; Young Harris College President Cathy Cox; former UWG provost and current Clayton State University President Tim Hynes; Technical College System of Georgia Commissioner Ronald Jackson; Georgia Southern University President Brooks Keel; University of Georgia President Jere W. Morehead; Kennesaw State University President Dan Papp; Georgia Institute of Technology President G.P. Peterson; Mercer University President William D. Underwood; and Emory University President James W. Wagner.
To view the entire Top 100 list, visit www.georgiatrend.com/.
Posted on