B>QUEST
(Business Quest)
ARTICLES
1998
Last revised: 4 November 1998
Articles are published continuously throughout the year.
---

Articles by Academicians
Information Systems Graduates' Evaluation of Their IS Curricula
by Nancy W. Ashley and Thomas C. Padgett
Investigation of a Strategy for Integrating Computers
into the Accounting Curriculum
by Walter W. Austin and Mary Jo Vaughan
Real Estate Brokerage and Agency in Florida: A New Direction for State Laws?
by H. Glenn Boggs
Real Estate Rehabilitation Projects and the
Investment Tax Credit
by Royce E. Chaffin and David F. Mullis
Factors Influencing Students' Performance in Economics
by Larry V. Ellis, Garey C. Durden, and Patricia E. Gaynor
Loss of Data Integrity: Deliberate Replacement of Data;
The Cost of the Lost Audit Trail
by Elbert L. Menees and Jerome V. Bennett
Business Students' Views of Ethics: A Situational Analysis
by Faramarz Parsa and William M. Lankford
From Theory to Reality: One University Reaches Out
by Jon Franklin Ramsoomair
Quantifying and Comparing Regional and National Employment Trends
by William L. Seyfried
---

Poland: Bridgehead to an Enlarged European Union
by Pawel J. Dabrowski
---
The Art of Information
by James R. Brett
Mexico's Public Debt and the Mexican RTC
by Roberto Valenzuela
---
Editors Forum
Insights Into Operating and Financial Leverage
by Carole E. Scott
Why Don't Economies Converge to a Single Growth Path?
by Carole E. Scott
---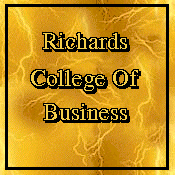 David Hovey, Dean
Carole E. Scott, Editor-in-Chief
The State
University of West Georgia
A Unit of the University System of Georgia
Beheruz N. Sethna, President
Carrollton, Georgia
U.S.A.
---

The above icon indicates that an article was subject to peer review. (See the Guidelines for Authors.)
---
Copyrighted by the Richards College of Business, University of West Georgia, 1996 - 1998
---