Poland:Bridgehead to an Enlarged European Union

by Pawel J. Dabrowski
---
Dr. Pawel (Paul) Dabrowski , pjda@alphalink.com.au , a native of Poland, is the "principal" of Australia-Poland Businesslink and a guest lecturer at both Swineburne University and Monash University in Australia.
---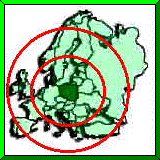 Editor's Note: Poland is important to other nation's businesses, not only due to its large domestic market, but for its proximity to the European Union as it is currently composed and the anticipated, much enlarged future European Union. Poland is centrally located in Europe between Russia and Germany. (See the map at left.) Poland is bordered by Belarus, Czech Republic, Germany, Lithuania, Russia, Slovakia, and Ukraine. In terms of land area, it is the seventh largest country on the continent.
Poland's estimated GDP in U.S. dollars in 1995 was $118 billion. It has a workforce of 15 million, 53 percent of whom are under 39. In 1995 and 1996 Poland enjoyed an economic growth rate of over six percent. This was well above the average growth rate in the EU. In October 1998, The Wall Street Journal reported that labor productivity is growing rapidly in Poland.
Since the collapse of communism in Eastern Europe, conditions in Poland have differed significantly from those in its faltering neighbor, Russia. This was noted in the November 1998 edition of Reason magazine by its editor, Virginia Postrel. In her article, "Low Fidelity, Russia's Pretend Capitalism," she quoted economist Andrei Schleifer as saying that Russian entrepreneurs "always point to multiple permits, inspections, registrations, all requiring interactions with multiple officials many of whom need to be bribed before the necessary documents are issued." On the other hand, a wealthy businessman in Poland told him that these are not a problem there.
Small shop owners in Moscow and Warsaw surveyed by Schleifer in 1995 revealed that, while in Moscow shops were inspected 18.6 times over the previous year, in Warsaw they were only inspected 9 times. It took 2.71 months to enter a business in Moscow. In Warsaw it took 0.72 months. Seventy-six percent of the small shop owners in Russia said they need a "roof"--people who provide them physical protection and "dispute" resolution. Only six percent of their peers in Warsaw said they needed such protection. Thirty-nine percent of the Russians had been contacted by racketeers in the past six months. Only eight percent of the Poles had.
---
The European Union Market
Today the enlarged EU accounts for:
about 1/3 of the world's economy;
an economy totaling $8.6 trillion;
a combined population of 372.2 million.
This observer, as do many others, believes that in the future 14 additional countries will be included in the EU. Therefore, it will ultimately offer international players an enormous, emerging market of almost 700 million people.
Three waves of countries are expected to join EU in the foreseeable future.
1) The first wave of entrants (expected to join EU by 2005, adding 63.2 million to the EU's population) includes:

Poland --40.2 million people;

Hungary -- 10.8 million people;

Czech Republic --10.3 million people;

Slovenia -- 1.9 million people.
2) The second wave, likely to join EU between 2010-2015 (84.8 million more people), includes:
Baltic states (Lithuania, Latvia, Estonia) -- 8 million people;

Bulgaria -- 9.6 million people;

Slovak Republic -- 5.3 million people;

Ukraine --51.9 million people;

Romania -- 24.8 million people.
3) In the third wave, the timing of whose entry is extremely difficult to predict, though it might be "guess-estimated" to be between 2020 and 2030 (accounting for 162.7 million more people), includes:
Russia -- 148 million people;

Belorussia 10.3 million people;

Moldova 4.4 million people .
All together, this would amount to an additional 310.7 million consumers -- a tremendous market!.
Those three waves of new entrants to the European Union share the following characteristics (Allowances for variations related to their respective rates of progress must, of course, be taken into account.). These characteristics are:
capital and know-how hungry;

enormous growth potential that can be released by free-market reforms;

huge market growth potential, as proven by the Polish example where telecommunications, advertising and insurance markets are growing at pace peaking at up to 50 percent, while the car market is growing between 28 percent and 42 percent. (See Figure1 below.)
Figure 1 Income and Consumption Dynamics

Note: Chocolate typlifies the enormous growth of consumption in Poland.

The Bridgehead Concept

What conditions have to be fulfilled by a country in order for it to be regarded as a 'bridgehead' in a firm's long-term strategy?

Based on military concepts, three factors have to exist:

The bridgehead has to be safe.
It has to be possible for the "invasion force" to re-group.
The bridgehead has to allow for further expansion with lesser resistance, that is, lower costs in terms of money, time, managerial resources.

In my opinion, all the three of these conditions are met by Poland.

Is Poland safe?

In order to answer this question, I will address the following aspects of this question:
issues of economic progress;
political stability;
experiences of investors, and, finally, the question;
"will Poland be another Thailand?"
Economic Progress

Poland (population: 38.5 million) is regarded by the US Department of Commerce as one of the ten Big Emerging Markets. [U.S. Department of Commerce, 1996] This booming market is experiencing dynamic growth in all relevant dimensions. Moreover, after a turbulent transformation period, Poland has recently been enjoying favourable and stable sociopolitical conditions.

What data convinced the US Department of Commerce to recommend Poland so decisively? Some of the data that influenced the Department of Commerce is shown in Table 1 (below). This data shows that Poland is characterized by dynamic, continuous and sustained growth.

Table 1

Poland: Key Economic Data

| | | | | | |
| --- | --- | --- | --- | --- | --- |
| | 1994 | 1995 | 1996 | 1997*** | 1998*** |
| GDP growth: | 5.3% | 7.0% | 5.3% | 6.3% | 5.7% |
| Export dynamics | 22.9% | 34% | 23% | 12.3% | 12.1% |
| Import dynamics | 24.7% | 31% | 21% | 20.1% | 16.6% |
| Industrial output incr. | 11.9%* | 11.0 (9.4**) | 8.5%** | 10.3%** | 7.8% |
| Inflation | 32.2% | 27.8% | 19.9% | 13.3% | 12.0% |
| Unemployment | 16.6% | 16.2% | 13.3% | 10.3% | 10.1% |

Data Sources

GUS (Polish Main Statistical Office), BOSS, 1996.

* Datastream (after: Robinson, 1996);

** EIU: Poland, Country Rapport 1997;

*** Warsaw Voice – an average of the estimates of five reputable institutions.

Available predictions [EIU, 1996] estimate Poland's future GDP growth rate at 5.1 percent to 5.3 percent. Even more important for the purpose of market size estimation is the fact that the traditionally given figure for GDP (i.e. GDP expressed in US dollars) underestimates the real purchasing power of Polish consumers due to the demand for hard currency. The systematic process of integration with the world economy--and the EU in particular--is causing constant appreciation of the Polish Zloty. A consequence of this is an even quicker rise of Poles' income. For instance, according to the Financial Times in 1996, real GDP growth in 1995 amounted to 6.5 percent, while, expressed in U.S. dollars, it has changed from $2,478 to $3,167, and that makes for a 27.8 percent increase!

Foreign trade dynamics, in particular, are very impressive. As is shown in Table 1 (above), exports rose by 22.9 percent in 1994, peaking at 34 percent, but slowing in 1995. However, in 1996 they rose by 23 percent, finally stabilizing at around 12 percent in 1997/1998. This means there was an over two-fold increase in three years (1994-1996). The respective figures for imports are a: 24.7 percent increase in 1994, 31 percent in 1995, and 21 percent in 1996. [BOSS, 1996] Total Polish imports have increased from $8 (U.S.) billion in 1990 to $19 billion in 1993 and to 30.2 (U.S.) billion in 1996. This allows Americans to anticipate their exports growing from $912 (U.S.) millions to $7 (U.S.) billion by the year 2000! [US Department of Commerce, 1996] Wouldn't such figures be the subject of the jealousy of many "Asian Tigers"?

Recent figures [MSZ, 1997] show that Poland's economy has finally earned internal and external confidence. New cars sales (usually a very good barometer of business and middle class confidence) jumped by 38.2 percent. [Ratajczyk, 1996] Foreign investments have risen more than two-fold: from $2.5 (U.S.) billion in 1995 to $5.4 (U.S.) billion. in 1996. This means that in 1996 foreign companies invested almost as much as in the period 1989-1995.

Worth noticing: According to the Engel Rule, quick income growth increases even more dynamically than discretionary spending and, as a consequence, so does the consumption of many imported as well as import-based goods. Figure1 (above) shows the dynamics of wages, car purchases and chocolate consumption.

Further prospects of economic development: Though systematic income growth seems to weaken the competitive advantage of a cheaper labour force, other, often neglected, factors should be considered:
First, income growth stabilizes the economy and makes the internal Polish market more attractive for foreign investors.

Second, the labour and production cost gap is so huge between Poland and its close Western markets (Germany and Scandinavia) that for a long time to be it will remain a viable source of competitive advantage.

Third, Polish companies are operating in a very non-supporting environment: interest rates are very high, banking services are inefficient (Credit application processing is very time consuming.), courier services (and many others) are almost unknown. The sluggishness of banking services leads companies to finance their growth from their own reserves. For instance, 70 percent of new investments are financed with enterprises' own funds. Only 30 percent are financed by bank loans, while in Western countries this proportion is just the opposite: 70% from credits, and 30% own financing. [BE, 1997b]

Fourth, the big opportunity for an economic boost from the housing industry is still in a state of lethargy. Sooner or later, these hindering factors will be overcome and the economy will get a significant boost.

Last, but not least, the level of managerial, financial and marketing knowledge is still low. Many companies have only just started operating in a free-market environment. However, all this is changing. Thousands of highly motivated managers are being trained, and companies (as well management educators and consultants) are quickly acquiring experience. I am convinced that these factors will play a significant role in sustaining and upholding of the long-term development of the Polish economy.
Political Factors

As recently as two years ago, a friend of mine, an international business consultant of Polish background, wanted to attract an Australian investor to Poland. After a brief presentation, the CEO expressed an opinion: "this all is very interesting, and the figures look OK, but for Poland is ruled by communists, we can not go ahead with this idea. Thank you for your time."

In fact, however, Poland offers a safe and stable political conditions and is actively encouraging foreign investments by organizing free trade zones, special economic activity zones and by offering tax holidays. Custom duties and other trade barriers are being systematically lowered. Integration with the European Union and within the so called 'Vyshehrad Zone' (Central-European Region) is systematically progressing. For example, since January 1st 1996, the import duty on coal products has been reduced by 40 percent, and that on textiles and clothing was to be slashed by 30 percent and will be removed completely. Respectively, EU custom duties on Polish steel products were reduced in 1996 from 12 percent to 9 percent [BOSS, 1996]

Finally, after a long turbulent period, Poland is enjoying political and social stability. Constant legal changes, which are natural features of any transition period, but inevitably cause headaches and frustration for many investors, are finally (almost) over. Most recently, in appreciation of its achievements, Poland has been accepted as a member of OECD (Organization of Economic Cooperation and Development). The so feared 'post-communist' government introduced free-market reforms. Now the last stage of the privatization is being introduced.

One of the most meaningful and significant factors related to OECD membership is a decision to open Polish financial markets to free competition. According agreements, Poland is to abolish existing restrictions and allow the free movement of capital and financial services after January 1999. After the 1st of January 2000, Polish citizens will be allowed to locate their savings offshore and get loans from abroad.

The perception of the political scene: the key to the political risk assessment, can often be distorted by the political sympathies of the observer. Foreign commentators are often the prey of their own political sympathies. As a result, Australian companies were often afraid of "the danger of the communists." I am aware of at least two cases where Australian companies pulled out of a very good business opportunity due to the overestimation of political risk. So, let's put the question bluntly: is there any "communist" risk in Poland? To answer this, let me present two "snapshots" as a case-in-point.

Snapshot 1 -- During the election campaign of 1993 the similarity of the SLD (the ruling "post-communist" party) and the Liberal Congress' programs was so striking that there were numerous accusation of one stealing its program from the other. (Liberal Congress is the right wing of the post-Solidarity movement, which introduced, during the Solidarity government reign, far reaching market reforms. It is represented, among others, by Mr. Balcerowicz, and is strongly influenced by Harvard University adviser Professor Jeffrey Sachs)

The point: The mainstream Polish political and intellectual forces are, in fact, unanimously supporting transformation towards a free-market economy.

Snapshot 2 -- Labour Day on the 1st of May in 1996 was celebrated by the President of Poland, Mr. Kwasniewski (formerly a communist party member), inviting representatives of labour unions and employers' and business associations to a common picnic. [SBS TV, 1996] The significance of this symbolic gesture of discarding the outlived 'struggle class theory' can be better understood if we consider the traditional meaning of Labour Day for the Eastern-European communist movement. This was a day of commemoration of past struggle, huge manifestations, and above all, demonstration of power, demonstration of willingness to fight "the class enemies" of the communist movement.

The most recent developments on the political scene includes the victory of the integrated post-Solidarity movement in the Autumn 1997 election, which proves that power in Poland can be moved smoothly from the hands of one political party to another.A clear sign of the willingness to continue pro-free market reforms was the appointment of the first Solidarity minister of finance, Mr. Balcerowicz, for the same position.

Legal issues

In its effort to achiever full recognition as a member of the world's global trading nations, Poland offers full legal protection of know-how, trade names and trade marks. In this regard Poland sometimes goes much further than most countries in its interpretation of fair trade. If a "clever" local "entrepreneur" registers a well known international trade mark (or something similar to one) as their own, such a registration might be reversed by the court decision even if the foreign company had not registered its trade mark in Poland, as was true, for instance, in the case of the "Cin-Cin" wine trade mark.

Foreign Investments

A large amount of foreign investment is regarded as the ultimate measure of a country's economic prospects. In Poland foreign investment rose more than two-fold in 1996: from $2.5 (U.S.) billion. in 1995 to $5.4 billion (U.S.). As a result, in 1996 foreign companies invested almost as much as they did from 1989 to 1995. For the first time Poland recorded more investment then its main regional rival, Hungary, leaving Russia third. That means that Poland fared quite well in the inter-regional comparison in the foreign investors' eyes.

Relative to the satisfaction level of foreign investors, with 1 representing the highest level of satisfaction and 5 the lowest, in a survey Poland took first place with a score of 2.1. Its' traditional competitors, Hungary and Czech Republic, scored 2.7, and 2.6, respectively, Slovakia kept pace with them with 2.7. Other countries were not so well appreciated by investors: Ukraine and Romania 3.0, Croatia 3.1, Russia 3.2, Lithuania 3.3, Bulgaria 3.6. A recent survey conducted by KPMG [Polska, 1996] also showed that huge majority (97 percent) of investors are satisfied with their investment decision, and almost as many (94 percent) plan further investments. (See Figures 2 and 3 below for more information on this subject.)

Q: Would you make the same decision about investment in Poland now?

Figure 2

Investors' satisfaction and further plans

Q: Is your company going make further investment in Poland?

Figure 3

Investors' Further Plans

Will Poland be another Thailand?

From 1993 until mid-1997, various analysts and business people were claiming that "Poland can be another Thailand." Among these was Mr. Meldrun, vice president of a Sydney-based telecommunication company operating in Poland.

Shouldn't, like Mr. Meldrun, prospective investors be afraid of a downturn of the Polish economy similar to the one currently being experienced by many Asian countries? Or is the only similarity between them and Poland a recent, very high growth rate?

Before answering the question, I will list key features of the Asian "miracle":

export based development;
strong interventionist state policy – varying from 'picking the winners' (Korea) to unashamed corruption (Indonesia);
corruption per se;
Weakness of the banking sector: lack of transparency leading to the situation were banks' landing decisions were based on political factors, rather than on the commercial feasibility of a project in question.

Key feature 1--The effectiveness of the export based development strategy that worked wonderfully for Japan for over thirty years has been significantly reduced because several countries, starting form virtually the same position, tried to pursue the same clients, offering same products to the same customers: buyers of clothing, cars, computer chips and licensed electronics. Obviously, this had to lead to price wars and internal competition between companies positioning themselves in a very similar way. (Consider for instance competition between Daewoo and Hundai for the small car market in Australia.) The internal competition limited profits and led to the fall of prices for the key export products such computer chips, which dropped from 30 percent to 40 percent from 1996 to 1997.

Ironically, the recipe for first years of success included a "poison pill." As many countries and companies succeeded, other stepped into their path by building big new factories producing same products, for the same--mostly foreign--customers. That resulted in huge over-capacity: not enough foreign customers to buy the goods produced.

Poland's recent development is being internally driven. Although several international companies see Poland as a production base, they aim mainly to serve local customers. They often even "bring their customers with them," simply shifting production from Germany or France to Poland (like, for instance, Michelin).

Key feature 2--After half a century of the command economy and "central planning," there is no sympathy in Poland for state interventionism. Although there are strong lobbies fighting for the preservation of monopolies in banking, telecommunications, insurance, mining, etc., liberalization is more a question of "when" and "how" than "if". The liberalization policy, although it can not bring as spectacular results, provides a healthy foundation for further development. Step by step, for instance, the banking sector has been commercialized The state-owned, monopoly Bank PKO, for example, was divided into sixteen independent entities. Also, foreign competition is being introduced. Unlimited competition is allowed, and all barriers to competition will be dropped after 1999.

Key feature 3--The "soil" of corruption is uncontrolled power. The Asian "tiger" countries' rulers usually enjoy very little or no opposition. This is attributed – rightly or wrongly – to "Asian" values. Recently in Poland two powers--the post-communist and the post-solidarity movement--keep each other in check. During the communist regime corruption was just fact of life, and during the post-communist years the ruling, post-solidarity elite were far from perfect. Despite this, corruption has been very limited due to enhanced transparency and public scrutiny of governmental officials.

Key feature 4--As has already been shown, the banking sector in Poland is being systematically reformed. True, it is still very inefficient and unable to provide clients with a standard of services even remotely like the one enjoyed by clients in the US or Australia. However, due to increasing competition and the necessity to pass the test of commercial viability on a day-to-day basis, the fundamentals of the banking sector are healthy.

Finally, there are two fundamental differences in the situation of Poland and in the so-called "wounded tigers".

First--The Asian countries started as virtually "rural societies". What on one hand enabled them to show impressive growth, on the other hand limited the growth in the second stage, which was recently reached. (A similar case, some economist argue, was Soviet Russia's impressive early development).

Second--Despite financial relationships and pro-export orientation, the "Asian tigers" were and are more "outsiders" in regard to their prospective markets, the USA and Western Europe. Poland, on the other hand, does not have ambitions to "conquer" foreign markets. It is, rather, on its way to becoming amalgamated with the rest of the European Community.

Social and Cultural Factors

Very interesting conclusions can be drawn from the analysis of strikes during the last few years. As is shown on the chart below (See Figure 4.), after the 'strike season' 1992/1993 strikes become extremely unusual events. The data suggests that after the turbulent period of adjustment to the new, free market system, strikes are practically abandoned as a tool of industrial conflict resolution.

Figure.4 Number of Strikes in Poland 1990-1996

Source: Wyszkowski, 1996

The middle and upper class is growing rapidly, creating a strong support base for further pro-market reforms, and a significant customer base with its strong desire to underscore its own achievements. New free market environment has created wealth of opportunities for the better educated and more entrepreneurial people: the new middle class. Their skills and knowledge are highly regarded and rewarded. This fact, coupled with the constant amalgamation of the Polish economy with Europe's, creates a situation where a 25% percent increase in the wages of skilled employees (in dollar terms) is not unusual.

Although Poland was for a long time a member of the "Communist Bloc", it has preserved (similar to former Czechoslovakia and Hungary) the democratic traditions and key elements of social infrastructure, which allowed a relatively smooth transition into the new way of thinking and doing business. Those elements were: independent private small (better micro-) business, independent farmers and (with some limitations) freedom of religion. Religion and the influential role of the Catholic Church was a catalyst for social transformation, promoting dialogue and social peace.

Long term cultural openness toward the West ( In the fifties, for example, Poland was the only country of the Communist Bloc where one could watch westerns in a cinema.) resulted in a very active, business-like attitude of Polish people. The best example of entrepreneurial attitudes were the tens of thousands people traveling in the 1970s to East Germany, Czechoslovakia and Hungary that created an unusual "backpackers trade".

Poland as a starting point for further expansion

Poland's central location, access to the sea and its size of its own market makes it an ideal place for a business to begin expanding into Central and Eastern Europe.

In analyzing two basic market entry modes, export and local production, it is worth considering that:

Export:

Its entral location makes Poland a very convenient place to set-up there central distribution warehouses, if central warehouses are needed to service the whole area.

Local production:

A unique combination of political and economical factors gives Poland a cost advantage in comparison with Western countries (even with the Czech Republic and Hungary), while the political stability coupled with the integration process with NATO and the European Union puts Poland in a clear advantage when compared with CIS countries.

In any case, the Polish market and Polish economy size allows a potential investor to achieve efficiency of scale in a relatively large and not as competitive market.

Poland, a Springboard to the "New Europe"

As it has been pointed out in the introduction, the "New Europe" consists of three waves of entrants. Therefore, to make the discussion easier, we will focus at the CIS (Commonwealth of Independent States). (The CIS is a federation of several former Iron Curtain states dominated by Russia.)

The CIS is an enormously vast market (285 million consumers, and other 8 million in the Baltic States) with abundance of natural resources and a great economic potential. However, the political instability and weaknesses of the business infrastructure (legal, communicational, distribution system) make direct entry there difficult or even too risky. On the other hand, because of its potential, it should not be neglected by any company which wants to have a 'global strategy" nor by those who are looking for the future markets. This market, however, can be effectively approached indirectly.

The following factors make Poland an ideal choice as a springboard to the region.

1. Poland has a very favourable political climate (which is not true of the CIS);

2. Apart from Russia (where political situation is extremely unstable) it is the biggest market in the region;

3. In the context of the future expansion and creating of sales force the following facts and factors are crucial:

One can relatively easy attract skilled and experienced sales people for this region, as for a long time Poland had a very intensive trade with the former Soviet Union. (Russian was even a compulsory language in primary and secondary schools). Now this trade has dropped.

A relatively cheap, qualified labour force will enable a company which operates in Poland expand effectively into the emerging CIS markets.

4. A relatively well developed (and quickly improving) business infrastructure (legal protection, telecommunication, transport and services).

5. Poland has the most Northeast reaching ports which do not freeze in winter (apart from Kaliningrad, which is separated from Russia by unfriendly Lithuania). This factor, coupled with the business infrastructure factor (as mentioned above) was a reason of recent decision of a US-Canadian consortium to build in Gdansk a US $140 million grain terminal to service American wheat shipment to Russia.

6. As distribution channels in CIS are in rather primary stage, a lot of real import to CIS is conducted in so called ant's method; i.e. many people are traveling by a car or (more often) by train to buy some goods for sale back in Russia. For them the most convenient destination - the first, as it is now perceived 'western' country, is Poland.

In practical terms, Poland might be used at this stage (probably for about ten years) in two ways:
As a distribution base: already today numerous entrepreneurial people from the CIS are coming to Poland from as far as Crimea or Siberia (Robinson & Bobinski, 1996). For various reasons it might by the most convenient solution to locate a main wholesale base in Poland and to supply other warehouses (even retailers) from there.
Due to the transformational experience, language similarities and common understanding of Russian (as well as Ukrainian and Belorussian), Poland might be a very good place to establish there a sales office, recruit and train sales people for the CIS market.
Poland, Backdoor to the European Union

Poland's integration with the European Union is only a matter of time. This creates great opportunities for companies interested in a long-term presence there. At this stage a bridgehead in Poland may be established more cheaply and much more easily than in an EU member country due to the lesser competition and the much lower price of qualified labor and tangible assets. Effectively, by establishing a factory in Poland, one does not have to worry about entering the EU and, thereby, overcoming numerous barriers designed to protect that market. It is the EU market with its enormous potential that will come soon to Poland.

It is worth considering that a very similar strategy was used by the Japanese shortly before Great Britain joined the European Union. During these years the Japanese flocked to Scotland to establish a production base from which they are now servicing the whole of Europe.

The fact that Korea became a second-largest investor ($893 million) in Poland in 1997 (following closely behind the USA) [Warsaw Voice 1998] should, in my view, be food for thought about long term "Europe-entry" strategies for non-European businesses.

Conclusion

Poland appears to be an attractive potential bridgehead both to the European Union--home to 372.2 million people--and to the "New Europe"--home to 310 million peole eager to share the prosperity of the nations of Western Europe..

---

Click on this graphic to learn more about business conditions in Poland.

Additional Links

Institutions of the European Union

---

Bibliography

BOSS (1996) Business News From Poland No.2(158)

EIU (1996) Poland -Country Report. 4 Quarter 1996.

EIU (1997) Poland 2005

KPMG (1997) Foreign Investors in Poland. Survey 1997, Warsaw.

MSZ (Ministerstwo Spraw Zagranicznych - Polish Foreign Office) (1997a) Biuletyn Ekonomiczny 7(241)

MSZ (Ministerstwo Spraw Zagranicznych - Polish Foreign Office) (1997b) Biuletyn Ekonomiczny 9(243)

Ratajczyk A, Big Car Names Head for Polish Price War' The Warsaw Voice Dec.13, 1996; No.50 (425).

Robinson A., Bobinski Ch., 1996 'The fight for the 'feel-good' factor'
Financial Times, March, 27.

US Department of Commerce, (1996) BEMS: Big Emerging Markets: Publication on the Internet: bmes@stats-usa.doc.gov

SBS TV (1996) Oto Polska [TV emission] May 19.1996.

The Warsaw Voice (1998) Breaking Down Barriers, Building Ties. Business and economy yearbook. Warsaw, 1998.

Wyszkowski Z. (1996) "Strajki 1996" [Strikes 1996] Rzeczpospolita 30.12.96

---

As people's incomes rise, their consumption of necessities like food, does not rise proportionately. So, as their incomes rise, they can afford to purchase less essential goods and services that they did not consume or consumed relatively less of when their incomes were lower.

Although articles by citizens of other countries may be somewhat "Americanized" for publication in B>Quest, some differences in terminology, spelling, etc. from those in the United States are retained.