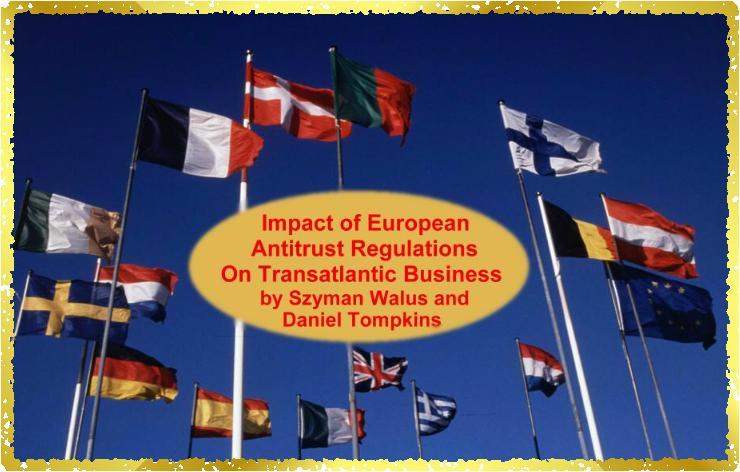 ---
Daniel Tompkins dlt@niagara.edu is an Associate Professor of Finance at Niagara University. Szymon Walus, a management consultant in Germany, can be reached at s_walus@gmx.net .
---

Different Philosophies and Common Goal
Both the United States (US) and the European Union (EU) recognize that, due to the different goals and policies they follow, complete regulatory convergence is neither possible nor desirable. Yet, without some degree of regulatory harmonization, expanding business will still face enormous administrative costs of adapting their operations to meet the myriad of standards, regulations and conformity assessment procedures on the two sides of the Atlantic Ocean.
The regulations are not protectionist in intent. They represent public policy differences in terms of market and administrative culture, risk assessment, and even societal goals. At the core of the drive for market regulation is a range of public and private strategies that seek to promote international acceptance of a particular norm or rule in the regional or transatlantic marketplace. Its success depends on creating the right framework of conditions for domestic and international trade by tracking the regulatory impacts and effects created by differences between the EU and US systems.
In the past few years transparency, flexibility, and harmonization in the domestic and international competitive review process have become increasingly contentious issues for companies and their advisers. As globalization continues, competitive regulators will further step up their efforts, and this will affect whether strategies and deals are completed, and, therefore, whether bankers get their fees for successfully completing mergers and acquisitions (M&A) deals or whether products enter a market. A few events, like spectacular downturns or mergers and court rulings, have recently brought these issues into sharper focus.
EU Antitrust
The EU Competition Commission (EC) is understood to want to expand its remit to get involved in smaller deals. Corporations and their advisers face the prospect of having a lot of extra work to do when embarking on mergers and acquisitions if the Commission succeeds in gaining more power to intervene in deals as proposed in the latest ruling review.
But not everyone is against the EC taking greater control over member states' mergers and acquisitions activities. Some industry experts argue that it is a good thing, rather than having a whole lot of jurisdictions, to try to adopt the broad approach. It also appears helpful to the whole market to have a single regulatory body to oversee developments.
Status Quo
As M&A cases increase in number, size, and complexity, the Commission must increasingly adhere to strict criteria and guidelines when treating cases. The European Commission is fully entitled to review all transactions between EU companies as well as mergers between non-EU companies as long as their activities have an appreciable impact in the EU, which is the same policy as followed by US antitrust authorities. At the same time, the EC is looking to reduce its workload by shedding its role as a clearing house for commercial agreements, such as joint ventures, and handing them back to the national competition authorities.
---
The EC currently intervenes in M&A transactions in several situations:
if the combined worldwide turnover of all parties involved is more than 5bn Euros, and

the EU turnover of each of at least two of the parties totals more than 250m Euros.
If a merger does not fall into these thresholds, the EC may still become involved if:
the combined worldwide turnover of all parties exceeds more than 2.5bn Euros, and

if turnover within the EU of at least two of the parties is more than $100m, and

if the parties have a combined turnover of over $100m in at least three member states, and

if in each of at least three of the same member states turnover of at least two parties exceeds 25m Euros.
Source: European Commission
---
Mario Monti
Mario Monti, EC Commissioner for Internal Markets, is calling for Brussels to be given greater authority in policing mergers and acquisitions across the globe by increasing the number of deals that fall under its remit. With European cross-border takeover activity at a high, the case for the EU Takeover Directive has never been stronger. The prospect of European Commission having more power to horrifies many investment bankers and lawyers. But many feel that, while the commission has voiced its opinion about a lot of deals, it has truly had relatively little impact on the M&A landscape.
Mario Monti, a 62-year-old Italian economics professor, heads the European Commission's Competition Directorate, which is responsible for reviewing mergers and acquisitions, looking into allegations of price-fixing and investigating companies charged with antitrust activities. The former Yale University graduate student has attracted more attention than any of the 20 EC commissioners. Monti has been a rising star on the European economic and political scene since 1985, when he was appointed to the European Commission's macroeconomic policy group. He served as a member of the working group that prepared Italy for the single European market. Before assuming his current job, Monti spent four years working to harmonize various financial and legal regulations among the 15 members of the European Union.
Now Jack Welch knows him as the Euro official who derailed his dream of crowning a triumphant career at General Electric (GE) with the takeover of Honeywell International, and Bill Gates sees him as the Eurocrat with the chutzpah to suggest that revealing the source code of the Windows operating system might be in the best interests of consumers.
Some press reports say that Monti seems to pride himself on not letting outside factors influence his decisions. He seems to take a much more inflexible approach to the law's practice than the US authorities at the Department of Justice (DOJ) and the Federal Trade Commission (FTC). For instance, unlike the DOJ, which cited the poor state of the US economy as a reason to seek a speedy settlement with Microsoft on relatively benign terms, Monti takes an academic detachment to his task.
He says that if the Dow falls below 10,000, we cannot suspend Article 85 of the Treaty and permit cartels. If the FTSE goes under 5,400, we cannot say that any company with a dominant position is allowed to abuse that position until the index recovers. [1]
Monti will be judged on the success, or failure, of his efforts to promote trans-Atlantic convergence on competition policy. His term is up in 2004, but he may well be reappointed (his predecessor was in the job for 10 years). Monti is proposing all the right things: he wants to speed up the regulatory process; make it more transparent; give those involved more time to make proposals to remedy objections; have a fast track judicial review system; and promote a global uniformity on competition thinking. He has shown exemplary resistance to political influence. There is only one question mark over him: can he strike the right balance between principle and practicality?
Consumer Protection According To Monti
Monti is the closest thing in Europe to a free-market zealot. He praises the greater dynamism of the US, and he is busy using his formidable power to push Europe along the same path. Monti believes that merger control is one of the main tools to ensure that market structures in Europe remain competitive. He points out also that the goal of competition policy is to protect consumer welfare by maintaining a high degree of competition in the common market. Competition should lead to lower prices, a wider choice of goods, and technological innovation. But he pushes for it by using the biggest of big governments, a Brussels bureaucracy that operates largely by decree. He regularly dispatches investigative hit squads to make dawn raids on companies he's investigating for overcharging consumers, from cell-phone giant Vodafone to Coca-Cola.
The European merger policy aims at preventing the creation or strengthening of dominant positions. Such a market power produces, according to EC, the competitive harm, which manifests either directly through higher post-merger prices or reduced innovation or, indirectly, through the elimination of competitors, leading ultimately to the same negative results in terms of prices or innovation.
Motivation By Lack of Regulations
Currently, Monti's investigators are limited to searching corporate offices for evidence of price fixing and abuse of market power, but he is pushing to extend raids to executives' homes. He is also seeking the power to interrogate employees about antitrust violations without guaranteeing they would be entitled to consult a lawyer.
Many critics accuse the antitrust chief of abusing his powers. Monti says he is actually motivated by a lack of authority. EU antitrust agents can, without any warning, walk into any company doing business in the 25-nation union to look for whatever they think might be proof of illegal activity. Then they can use the evidence to levy fines.
The raids, formally called surprise inspections, usually come shortly after the EU launches an investigation based on complaints by consumers or rivals of targeted companies. Raids have helped the commission bust up a beer cartel, forced car makers to limit illegally controlling prices throughout Europe, and exposed a conspiracy by airlines not to compete on certain routes in Scandinavia.
In the EU, there aren't any regulations laying out the criteria to justify a raid. Each antitrust chief largely determines his own standards for action. Under Monti, the department conducts raids when an alleged infraction is of a serious nature (according to the EC investigators) and the EU believes key evidence is being concealed and could be destroyed.
Monti says investigators need still more power. Unlike the US´s DOJ, the EU can't issue subpoenas for internal documents and back up its demand with the threat of imprisonment. The most severe penalty the EU can levy for an antitrust infraction is a fine. There is no EU criminal law and no EU jails.
The Main Difference Is The Attitude
The agreement between the Commission of European Union and the government of the United States regarding the application of their competition laws was singed on 23 November 1990. This agreement was primarily a codification of the considerations that have to be made by each of the signatories to it of the other party's interests when commencing an antitrust investigation which may have repercussions in the other party's legal system. The text of the agreement does not reveal interesting developments. Rather it seems a reasonable and logical elaboration of traditional rules of comity as stand in international law.
The US tends to have confidence in the free market. The US market is mature and highly efficient. This allows a US mind-set that the market will innovate and create new avenues of competition.
The European authorities' approach might imply that the best thing in the long run is to maintain a certain number of competitors. If the number of competitors increases, the risk of a few stronger competitors taking advantage of others decreases. [2]
These beliefs are reflected in, and stem from, the two systems' different legal tests for approving a merger. In the US, the test is whether the merger will substantially lessen competition. The EC, however, examines whether a concentration or merger is likely to create or strengthen a dominant position and so potentially threaten the best long-term interests of the consumer. The EU has on occasion determined that a company is dominant if it has 40 percent of a market, a number viewed as absurdly low by U.S. regulators.
Also, in Europe, the onus shifts to the merging parties to prove that their deal will not harm competition, whereas in the US, the authorities must prove that it will. Furthermore, the US authorities must go to court to block a merger.
Since the Merger Regulation came into force in 1990, the Commission has prohibited 18 mergers. This is less than one percent of all the proposed transactions. Of these 18 prohibition decisions, six were the object of an appeal. In the same time, over 70 companies stepped back from the planned transactions after pre-negotiations and consultancies with the EC.
Since the Summer 2001, when EC's staff put an end to the GE-Honeywell merger after it had already won the approval of US regulators, Mario Monti has become a sort of cult figure in the antitrust world, gaining the nick name "Super Mario" after the video game hero. Fans have praised him for his tough, take-no-prisoners stance. His critics, especially those in the United States, accuse him of trying to use his position to give European companies an advantage over American ones. They say he is more interested in protecting corporate rivals of companies he's investigating than he is in weighing the interests of consumers.
The members of the US Congress antitrust sub-committee has claimed the EC's decisions on mergers and competition cases were prompted partly by protectionism. [3] Monti rejects this allegation, saying he is working to keep the lines of communication open on both sides of this Atlantic.
The question of a lack of accountability within the Commission's decision-making process is also an issue. Jack Welch, former chairman and chief executive of General Electric, who battled unsuccessfully with the Commission to clear GE's merger with Honeywell, says: "There is no recourse to the decision by the Commission-- that's outrageous. There is no place to take your argument, you lose, you lose.The court that hears it are the same Commissioners that rule on it. There's nothing you do in most countries that can't go for an appeal. So this is a kangaroo court. So until you get to the point where somebody has a hearing with an impartial look at this issue, there's no chance of fairness." [4]
The EC Investigation Process
There are two phases to the European competition investigation: phase one lasts one month and phase two lasts for up to four months. Companies are given warning about the commission's concerns in at least two instances. When the commission launches an investigation, the EC informs the company where it has concerns so that it can react. As part of phase two, companies can be heard at formal hearings to which third parties (advisors, customers, competitors) with a valid interest are also invited.
At present, companies can appeal a negative decision to the European Court of First Instance, but with hearings taking up to a year or more to take place, let alone a ruling being handed down, most deals will have fallen apart for commercial reasons. Companies do challenge commission decisions, but more with legal principles in mind than with a view to saving their merger.
But, unlike their US counterparts, European antitrust enforcers lack the legal tools of addressing the abuses of market power after a merger has been approved. In the US antitrust practice, the government or anyone else can file a lawsuit against a deal that has received the regulatory green light. Such post-merger regulation is almost impossible in Europe.
Challenges Faced By US Companies
The challenge facing US companies is how to deal with antitrust regulations in Europe that differ in approach from those in the United States. US antitrust law is mainly concerned with protecting consumers, while the European Commission pays greater attention to how a merger will affect competing companies. As a result of these divergent approaches, mergers that once seemed inevitable once they cleared Justice Department review, now face an uncertain fate in Europe.
That approach has presented a burden for US companies. In the past, American corporations were willing and able to divest European assets in the interest of a larger deal. Now, as in the recent Hewlett-Packard-Compaq merger, the European market is often a crucial part of the deal.
The European Commission objected to GE's plan to use its financing arm as a sales tool for both GE jet engines and Honeywell avionics, arguing that the arrangement gave the merged company an unfair competitive advantage. US antitrust regulators, by contrast, did not feel that the overlap would have a negative effect on consumers.
After the GE-Honeywell merger collapsed, President George W. Bush and several US senators complained that the commission had no business inserting itself into an all-American deal, hinting that some level of European protectionism was behind the decision.
Monti vehemently denied the protectionism charge. He has frequently asserted that the commission is concerned with competitive market dominance only because it increases the opportunity for abuses. The commission has explicitly stated that its goal is to ensure that "markets remain sufficiently competitive in the long run so that consumers benefit from sufficient choice, innovation and competitive process." [5]
EU Antitrust: Future Prospects
There Is Always A Tomorrow
The European Commission's recently renewed its push to open European telecommunications markets. By investigating allegations of price discrimination and service delays by former telecom monopolies, the European Union's antitrust authority is responding partly to calls by companies that not long ago just wanted it to leave the industry alone.
Until very recently, the commission, which wrote the telecom rules has mostly left enforcement to national regulators. But it is increasingly taking matters into its own hands amid mounting evidence that its four-year-old liberalization drive is losing momentum. In a letter sent to 250 phone companies throughout the EU in July 2002, the commission said it was investigating whether dominant operators, mostly former monopolists, were abusing their positions to thwart competition in local phone connections, which is known as the last mile.
Need For Change
After the European Commission nixed General Electric Co.'s $42 billion acquisition of Honeywell Inc., some industrialists pushed for a radical overhaul of European Union merger rules. They said the EU should abandon its rigid dominance test in favor of a more flexible US standard known as substantial lessening of competition, and allow regulators to weigh purported consumer benefits. The EU's chief antitrust authority began a highly publicized review of all aspects of its merger regime.
The draft directive is designed to break down barriers to investment in Europe by coordinating the action taken by member states on cross-border takeovers; setting minimum rules of investor protection; and preventing defensive measures being launched by target companies without shareholder approval.
At present, the patchwork of often-inconsistent European takeover legislation complicates cross-border takeover activity and creates loopholes which have, in some cases, been exploited to the detriment of investors.
The issue of investor protection constitutes the core of the directive and concentrates on two specific areas: mandatory bids and defensive actions. However, opponents of the directive argue that both areas fail to provide sufficient clarity.
Proponents of the directive, including Monti, maintain that had the directive already been adopted, several acrimonious takeover battles would have had to follow a very different course.
Other important changes scheduled for introduction by the directive include clarifying the competent authority and the applicable law for regulating a cross-border takeover--thus removing a troublesome grey area dogging advisers to EU corporate finance deals. Indeed, if and when it does come into operation, the directive would force through some very significant changes to the takeover laws of many member states. It seeks to introduce a level playing field requiring the company taking control of a target to make a bid, at an equitable price, to all shareholders for their total combined holdings.
This is not yet mandatory in some EU member states, including the Netherlands and Germany. The bidder would also be forced to make an alternative cash offer if its original offer was not made in liquid securities freely traded on the regulated markets of at least one member state.
Although not all member states have been consistently in favor of the directive, the reworked draft had been tipped for success. Modifications to the proposed law had been introduced to address UK concerns that the directive undermined Britain's self-regulatory system, overseen by the Takeover Panel, which is itself the template for the draft directive. The compromise wording proposed by Germany states that the directive does not affect the power which courts may have in a member state to decline to hear legal proceedings and to decide whether or not such proceedings affect the outcome of the bid.
EC Self-Revolution
Currently, European Union law obligates the Commission to prevent companies from creating or strengthening a dominant position in a given market. Although the commission can consider consumer benefits, its lawyers have tended to focus on the potential for a merger to stifle competition.
In an effort to quell growing criticism of his decisions, Monti promised fast reforms of the rules governing mergers and acquisitions. Bankers and lawyers favorably reacted to the announcement by the EC that it plans to consider in the future cost savings, otherwise defined as efficiencies, when deciding on a merger, favorably. At present, cost-savings do not play any part in the commission's scrutiny of a merger. However, deals that are regarded as uncompetitive will not be given the go-ahead purely on the grounds of cost savings. Mergers do not always yield the benefits claimed by companies, but, certainly, the cost reductions are the ones that matter. The key is striking the delicate balance between cost savings and competition restrictions.
A proposed review paper demonstrates the European Commission's determination to speed up the process of integrating Europe into a single financial and legal market. It also asks the industry what minimum standards should be established on proxy voting on the issues of forcing companies to facilitate proxy voting or electronic voting.
The EC has also proposed two separate, two-week 'stop-the-clock' periods during the merger review process. Merger parties could use the time to explore additional disposals (e.g. selling additional operations, subsidiaries, or brands) to the ones they had originally offered at the notification stage to get the deal through."
One point under discussion is whether more time should be allocated to the first phase of the review. If a merger is within the threshold requirements, the merging companies must notify the Competition Commission. When the Commission informs the merging companies that their notified merger plan faces rejection, they then have four weeks to come up with a set of remedies.
The company director says the four-week period is challenging, but currently workable. Although the commission has been able to give the necessary time and resources to the proposed mergers in his experience, he says, a more extended period would allow increased flexibility for both sides.
Such an extension would be particularly helpful for deals involving US companies, which also have to answer to US merger authorities. This would lengthen the probe, which currently takes up to five months, but would also give companies more time to discuss possible concessions and avoid a blocking of the deal.
While the EU insists that remedies be submitted within four weeks, the US regulators won't even consider remedies until after four weeks have elapsed. This obviously causes fundamental problems for mergers that have significant exposure in both the European and US markets.
Monti has also raised some other thorny issues, such as whether there should be independent checks and balances imposed on the Commission. The Commissioner has faced criticism from lawyers and multinational corporations who accuse him of acting as judge, jury, and executioner on cross-border deals. Monti told a competition conference in Brussels that he would draw up proposals for change and new, transparent guidelines by the end of this year. He also promised a code of practice dictating how the European Commission should conduct merger investigations.
The initiative will also remove the need to notify Brussels about all deals-a costly process and a waste of the Commission's limited resources at a time when it is having to deal with a wave of complicated, internet-related deals.
Some other commission proposals would require changes to EU law and the approval of national governments. Monti said the Commission is considering whether to increase penalties for companies that fail to comply with its requests for information during the course of a merger review and whether to allow companies to stop the clock on a merger review to find remedies to antitrust objections.
---
Big Shift?
Proposed changes to the European Union's merger-review rules:
Efficiency defense: Look more kindly on mergers and acquisitions that stand to benefit consumers.

Jurisdiction issues: Clear the way for companies facing merger approvals in several EU countries to get one-stop service from the commission instead.

Competition test: Abandon the EU's "dominance" test for mergers in favor of the "substantial lessening of competition" test used in the U.S.

Deadlines: Allow companies to "stop the clock" on a merger review to buy time to find remedies to objections.

Enforcement: Raise fines on companies failing to comply with information requests, increase the amount of market research available.
Source: Financial News, Financia Times, European Commission
---
Reactions To The Proposals
Most observers are positive about Monti's plans and prospects for the review, though some note that the EC is not proposing a new system, but, instead, ways to improve current rules.
Business organizations want the European Competition Commission to allow leeway for considering the impact of new competitors and technological change. This should make it easier for companies to argue that any dominance within a market is often just temporary, stresses Erik Berggren, a senior adviser with the European Employers Association UNICE. [6]
The commission is expected to publish guidelines allowing executives and lawyers to make earlier and more accurate projections about the consequences of the 350 or so deals that Brussels reviews annually. By issuing the guidelines, Monti will seek to ease tensions with the U.S. as well as quell anxiety in Europe over the EU's antitrust activism.
The problem companies face, however, is the way initial understandings between companies and Commission case handlers can be turned on their head after notification. Once the firms file their written notification, the Commission surveys customers and competitors. It then interprets what constitutes the relevant market and whether the merger will strengthen domination.
Insiders suspect that this discussion is unlikely to lead to a change in the EC system. Many lobbyists don't think that the Commission is unhappy with the way the current system works. This argument is supported by the fact that Monti's recent speech to the American Bar Association was entitled: "Antitrust in US and Europe, A history of convergence." [7]
---
aFootnotes
1. Mario Monti, European Commission 2002.
2. Peter Tague, managing director and co-head of Schroder Salomon Smith Barney's corporate finance advisory group, London 2002.
3. Financial News, January 2002
4. From "Jack, Straight from the Gut" by Jack Welch.
5. European Commission, December 2001.
6. DealBook, The New York Times, June 2002.
7. European Commission, November 2001.
---
Select and click a new color for the background.
Return to the top of the page.
---