B>QUEST
(Business Quest)
ARTICLES
1997
Last revised: 14 November 1997
Articles are published continuously throughout the year.
---

Articles by Academicians
Understanding the Cost of Private Mortgage Insurance
by L. Lee Colquitt and V. Carlos Slawson, Jr.
What Can Economics Learn from Marketing Market Structure Analysis?
by Charles C. Fischer
Why Encryption Matters
by David D. Friedman
An Economic Discussion of Competitive Dog Mushing
by Mark Herrmann and Kristen Keith
Doing Business in Moscow: Threats and Opportunities
by Joan C. Hubbard and Charles W. Hubbard
Scholarly Internet Research: Is It Real?
by Robert H. Nigohosian
From Disclosure Indices to Business Communication:
A Review of the Transformation
by Hannu J. Schadewitz and Dallas R. Blevins
The Disappearance from Georgia of the Farm Union
by Carole E. Scott and Richard D. Guynn
Pitfalls of Object-Oriented Development
by Vivek Shah, Marcos Sivitanides and Roy Martin
The Effects of Hispanic Ethnic Identification on Teenager Influence in Purchase Decisions: An Exploratory Study
by Salil Talpade, Medha Talpade, and Suresh Prabhu
Superstardom in the Finance, Accounting, and Economics Scholarly Publication Industry
by Raymond A. K. Cox, John B. Mitchell, and Kee H. Chung
---

Articles by Practitioners
Joy in the Workplace: Now More Important Than Ever and A Certain Competitive Advantage
by Patricia Senecal
---

Editors Forum
Identifying The Profit Maximizing Price May Be Much Tougher Than Textbooks Indicate
by Carole E. Scott
---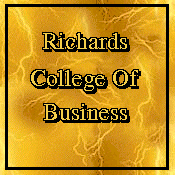 David Hovey, Dean
Carole E. Scott, Editor-in-Chief
The State
University of West Georgia
A Unit of the University System of Georgia
Beheruz N. Sethna, President
Carrollton, Georgia
U.S.A.
---

The above icon indicates that an article was subject to peer review. (See the Guidelines for Authors.)
---
Copyrighted by the Richards College of Business, University of West Georgia, 1996 - 1997
---