by Julie Lineback
In celebration of womanhood in all its complexity and wonder, the University of West Georgia's Responsible Sexuality Committee will present "The Vagina Monologues," an episodic play written by Eve Ensler and performed by UWG students, faculty and staff, and community members.
Play video
Cast members speak on what the play means to them.
Performances will be held on Feb. 15 at 7 p.m., Feb. 16 at 8 p.m. and Feb. 17 at 2:30 p.m. in the Campus Center 108.2. There is a suggested donation of $5 or an unopened box of feminine hygiene products. Proceeds benefit Carroll County Emergency Shelter and vday.org.
With "The Vagina Monologues," Ensler wove a tapestry of female voices in 1996 after interviewing 200 women from all walks of life about their views on sex, relationships and violence against women.
University Communications and Marketing Videographer Julia Mothersole recently sat down with some of the cast members of UWG's "The Vagina Monologues" to speak on the piece's impact and what it means to them.
What have you discovered about yourself because of "The Vagina Monologues"?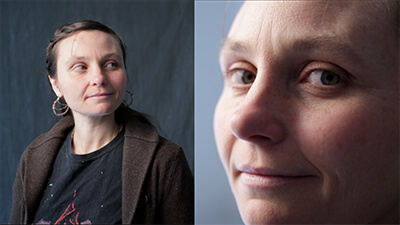 Terra Currie, community member: Even though this is my third year participating, it always amazes me how each time I hear or practice these monologues, they are still newly relevant in my life. So, I think what I've learned from these monologues is there's always more to discover about myself, there's more awakening and connection that can happen within me.
Jasmine Charles, UWG senior: I feel like women are more important now. I feel like people are starting to realize not just our voices matter but we matter. "The Vagina Monologues" gave me a voice. It's issues I want to talk about and need to be talked about. Without it, I don't have a platform to speak on.
How has being involved in "The Vagina Monologues" been therapeutic for you?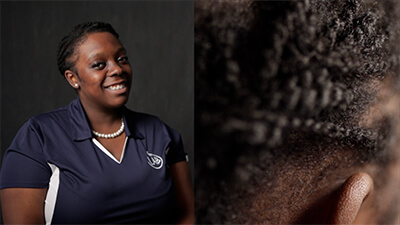 Boshicu Page, UWG senior: It's allowed me to take charge of myself, my choices and my decisions. I'm performing "My Short Skirt," in "The Vagina Monologues," and it isn't just about an article of clothing, it's about your choice and your decisions. It's something so much bigger than how men or even women want to make it. That is perfect for me because I've been through a lot in my college years – just trying to embrace different things about myself, about being a woman and about transitioning to college and transitioning out soon.
Neffy Wells, UWG junior: It gives me an opportunity to talk about all the things I think about on a regular basis. Being able to do this piece as a woman gives me an opportunity to have a voice for people like myself in real life who are too shy to talk about these things. My surroundings did not promote these topics too often. So this monologue gives me the opportunity to artistically discuss this. And not only that, but my piece has a lot of comic relief. I get to be funny with it. I love that so much. I get a chance to talk about everything that I've always thought and make people laugh in the process.
What do you hope people in the audience will get out of this?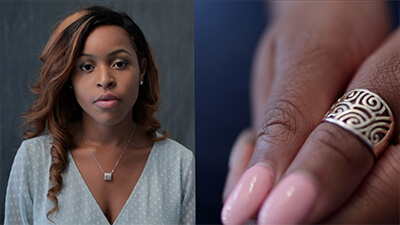 Wells: As someone who's not so comfortable with these intimate conversations, my hope is that when the audience watches a more reserved person who can relate to their discomfort on stage, they in return will be able to become more open-minded to having these discussions.
Jessica Renard, UWG staff: I think it's important for the audience to challenge their beliefs. If they see recognition in a story and people are talking about it, maybe they'll feel more comfortable talking about it to somebody.
How has "The Vagina Monologues" added to your experience at UWG as a student?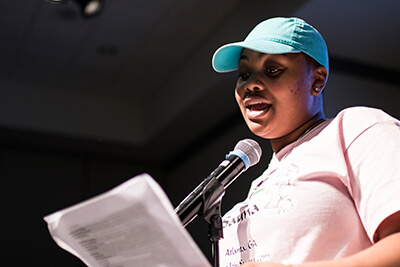 Charles: I've always wanted to help people, I just never knew how I was going to do that. I chose health and community wellness as a major because it's more of a holistic approach in keeping people healthy. "The Vagina Monologues" is another way of helping people to open up, to be vulnerable, to be receptive of certain issues that aren't being talked about and of certain issues that are now being talked about a lot more.
Page: It has allowed me to feel camaraderie with my older counterparts. I've been able to see them as mentors and see the confidence and the light they exude. Women have this ambiance. It's just beautiful to be able to be in that setting and be able to come after a long day and speak about womanhood. It's just really great to be able to have that experience as a student.
How has performing in this play in conjunction with UWG affected your perception of the university?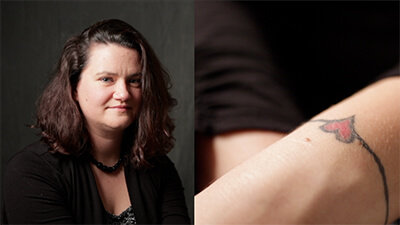 Renard: I feel more connected to the university. I graduated from UWG, and so it's part of me. By working here and participating in this I am also contributing to the university. The fact that the university supports it and provides space sends a message. Ultimately, the university is about students, and right now more than 65 percent of our population is women. I think this is an effort to acknowledge the students who are here and the women who make up the university – the students, the staff, the administrators, the professors, the people who have been here and the people who will come here.
Currie: As a community member outside the university, I appreciate the opportunity to connect with things happening at UWG. The students are a fresh spirit in the world. There's innovation happening. And for them to see and connect with people in the community who are outside the school, that opens up doors to their possibilities also.
What is it like performing with your student/professor?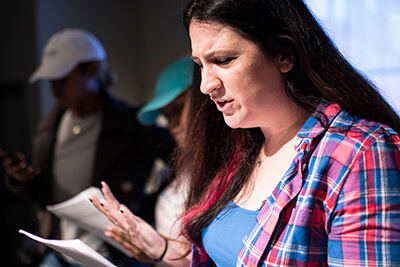 Kelly Williams, UWG faculty: It's cool to connect with a student outside the classroom and help shape their college experience through a different activity. Boshicu was the first student who made me feel like I was a mentor and that I'm actually making a difference in the life of another woman who's going to go out there and touch so many lives. Being in "The Vagina Monologues" together is really exciting because it is taking that mentor relationship to a whole other level.
Page: It's so nice to have that kind of bond and mentorship with a professor. Professor Williams brings a sort of energy. It's just beautiful to be able to see that in class every day and have that in "The Vagina Monologues." She's always cheering everyone on. She's brighter than the sun. A lot of us need that sunshine in our lives, and that's what she is in my life.
Video and photography by Julia Mothersole
Posted on