Performance Venues
Facilities
Practice Rooms
The UWG Music Program offers dedicated practice rooms with Kawai pianos exclusively available to all music majors and minors. Certain practice rooms are equipped with computer workstations where students can access SmartMusic and other programs to aid in their studies. In addition, there is a dedicated practice room equipped with an Allen electric organ.
Music Technology Lab
This space is equipped with 44 key digital synthesizers and the newest Apple IMac software including Sibelius, Garage Band, Adobe Audition, and others.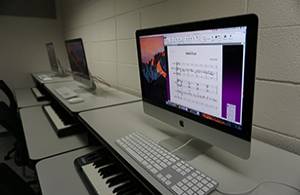 Access is granted to students enrolled in specific music courses and students in a Composition degree program.
Band Room
This is the rehearsal space for the UWG bands, equipped with multimedia technology. 
Choir Room
This tiered rehearsal space is used for the UWG choirs, as well as for lecture based classes such as Music Appreciation. It is equipped with multimedia technology.
Percussion Studio
This sound isolated space is used for the rehearsals and lessons of the percussion students and faculty. 
Wenger Faculty Studios
The music program boasts not one, but two sound proof faculty studios equipped with Wenger Sound-Lok digital acoustic enhancements.
Keyboard Lab
This classroom functions as a 16 seat lab space for group piano instruction. 
Music Classrooms
These classrooms are dedicated to music specific courses and contain upright piano and multimedia technology to aid with instruction.
Bowdon Hall
Located next to the Humanities Building, this dormitory is the prime location for students of music beginning their journey at UWG. Here students can live in community with their fellow classmates only a short distance from their classes and the on-campus dining hall East Commons. 
Practice Rooms
Within this dorm, there are practice rooms exclusively for Bowdon residents studying music.
Computer Lab
Bowdon also contains a computer lab for those late night homework sessions and paper writing.
Marching Band Field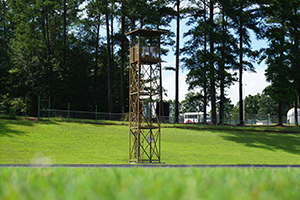 This field is the dedicated rehearsal space of The Marching Wolves of West Georgia, equipped with tower.