The Vault Gallery is a collaboration between UWG's School of the Arts, the Newnan Artist-in-Residence Program, and the City of Newnan itself, and is be open to the public on a limited basis throughout the year and feature diverse art exhibitions of community interest.
Hours:
Thursday-Friday: 2 - 6 p.m.
For special opening hours, see each exhibition below.
Wadsworth Auditorium, 25 Jefferson Street, Newnan, GA



Fall 2022 Exhibition Schedule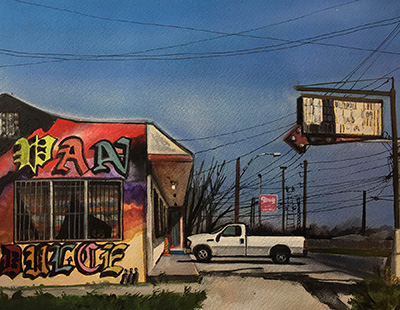 September 15-23
Ana Fernandez
2022 Blackwell Prize in Painting Exhibition
Reception: Friday, September 23, 5:00-9:00 p.m., Wadsworth Auditorium, Newnan (part of Art Walk)
Artist Talk: Wednesday, September 21, 6:00 p.m., Campus Center Ballroom 108.3/4, UWG Carrollton
Ana Fernandez is a San Antonio-based painter whose work depicts the diverse landscapes of Latino communities in South Texas. She holds an M.F.A. from UCLA and is owner of Chamoy City Limits, a popular restaurant and food truck in San Antonio.

October 7-November 3
Infinite Weight/Present Histories
A National Juried Photography Exhibition
Reception: Friday, October 7, 6:00-8:00 p.m.
This photography exhibition explores ideas from the conceptual to the speculative. Juror: Hallie Ringle, Hugh Kaul Curator of Contemporary Art at the Birmingham Museum of Art.
Past Exhibitions
April 2022: Flow

For this interdisciplinary collaboration between UWG Psychology and Art, psychology students from Nisha Gupta's "Explorations into Creativity" class wrote poetic phenomenological descriptions of specific moments in their lives in which they experienced a state of flow. Then, fine art students from Erin Dixon and Eilis Crean's drawing and painting classes expressed these lived experiences of flow state through empathic, visual art-making. 

March 2022: Home 2.0

This second iteration of the Home exhibition featured select UWG students who shared their visual responses and reflections on the universal, familiar, and timely theme of home. In their first years college, usually a time of independence and growth, students unexpectedly found themselves back in their childhood bedrooms, in front of laptops and cell phones, due to the pandemic. Their work draws from their experiences during this time of upheaval.

October 2021: Blackwell Prize in Painting: Lilian Garcia-Roig

Cuban-born and Texas-raised, Lilian Garcia-Roig paints mainly large-scale landscape-themed works from observation, which she often completes in a single day. In addition to winning the Blackwell Prize, she is also a 2021 Guggenheim Fellow, one of the most prestigious fellowships worldwide. Garcia-Roig currently serves as Professor and Chair of the Department of Art at Florida State University, in Tallahassee.



September 2021: Home

Artists share their responses and reflections on the universal, familiar, and timely themes of Home. Originally conceived prior to the COVID-19 pandemic and devastating tornado in Newnan, the exhibition theme Home was intended to celebrate Newnan's identity as the "City of Homes." In our new reality, Home is not only a space for habitation and shelter but also for memory and identity in all of their rich cultural, historical, political, and socioeconomic contexts. This exhibition treats the theme of Home as physical space, idealized concept, and metaphor.
Follow us on Instagram @vault_gallery_newnan