2024 Schedule
Please Note:
Individual students and/or team members of group projects must attend mandatory sessions.
Only the students/teams are allowed in the Teal Room during the interviews.
Students, parents, and teachers are encouraged to attend all other activities.


All scheduled activities, except for lunch, are located in the UWG Biology Building at UWG Carrollton. Students must attend in person to compete.
See Getting There and Around for more location information.
8:00 - 9:30 a.m.
Check-in and Project Setup - MANDATORY
Teal Classroom 117
9:30 - 9:45 a.m.
Opening Remarks - MANDATORY
Lecture Hall 125
9:45 - 10:45 a.m.
Plenary Lecture: TBA
Lecture Hall 125
10:45 a.m. - 12:15 p.m.
Science Fair Interviews - MANDATORY
*only students and judges allowed in the room*
Teal Classroom 117
12:15 - 1:30 p.m.
Lunch (on your own)
Explore Our On-Campus Dining Facilities
1:30 - 3:00 p.m.
Research Lab Tours
Meet in Biology Lobby
3:00 - 3:30 p.m.
Public Presentation - MANDATORY
Teal Classroom 117
3:30 - 4:00 p.m.
Awards Ceremony - MANDATORY
Lecture Hall 125
4:00 - 4:30 p.m.
Advancing to GSEF Meeting - MANDATORY
Lecture Hall 125
4:30 - 5:00 p.m.
Project Teardown - MANDATORY
Teal Classroom 117
getting there and around
Biology Building
125 E. Roberts Dr.
University of West Georgia, Carrollton
Parking is available in lots 18A and 18B circled red on the map. Please print the parking pass and display it on your car's dashborad.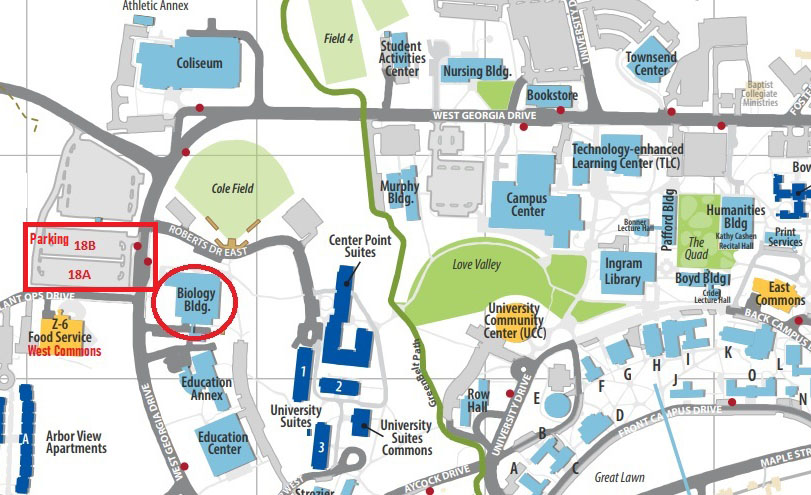 Biology Building Map: