Economics Chair Creates Demand for Community Information
Joey Smith
By McKenzie Arrington
University of West Georgia Richards College of Business Economics Chair and Professor William. J. "Joey" Smith has been teaching economics at UWG for 12 years. He's also made a career of providing economic information to the community that affects their lives every day. But that career began simply as a class that Smith took just for fun.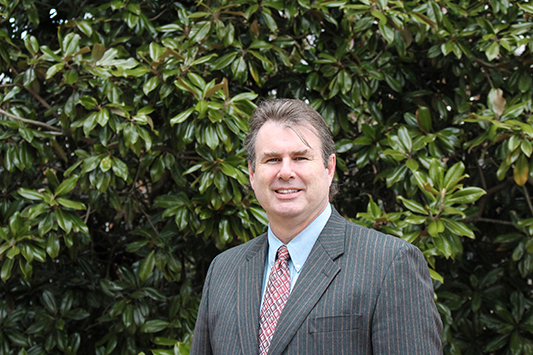 "I was a biology major, initially, but was taking classes in philosophy and economics because of a personal interest," Smith said. "Before I knew it, I was graduating with a degree in both economics and philosophy."
However, after Smith discovered his job options were limited due to the early 1990s recession, he then decided to pursue a graduate degree in economics.
"In graduate school, I worked as a graduate research assistant and eventually was hired as a researcher for a newly formed research group called the Fiscal Research Center," Smith said. "This is where I got a lot of my experience working on estimating economic impacts or tax impacts for state government and private entities."
Smith worked as a research assistant for 11 years, and in 2006 was promoted from a research assistant to a senior research associate. In this position, he started out working on other peoples' projects, then moved on to developing and executing his own projects, working directly with members of the Georgia State Legislature.
"In fact, I still do this type of work today," Smith said. "In 2006, I returned to teach at UWG as an assistant professor and became the first director at the UWG Center for Business and Economic Research, which organizes the annual Economic Forecasting Breakfast, Quarterly Updates, and other local and state publications."
The Breakfast went from featuring one local speaker, to having various national and regional speakers. The event's attendance has since skyrocketed, and tickets now sell out weeks in advance.
"We have attracted a wider audience, and in doing so, we have increased the demand for economic information in the community," Smith said. "In 2010, we expanded to four issues [of the Quarterly Update] a year, instead of the single issue at the breakfast."
The main reason for expanding was to cover specific industries, policies and changes in the economy that affect the west Georgia region. Currently, the Economics Department circulates a Quarterly Update to about 800 people by direct email. Smith says the team is committed to community engagement through these activities because more information improves decisions and, as a result, people's lives.
"We also get requests regularly from local community leaders for even more information, and we continue to do our best to provide help whenever we can," Smith said. "In fact, I continue to field questions from community members and give talks eight to 10 times per year to civic organizations and industry groups."
Smith did not set out to become a professor when he earned his degrees. But with a mind open to new experiences, and after working in the research field for more than 10 years, he decided it was time for a change.
"To me, the most rewarding thing about teaching is seeing the clouds part for a student who is struggling with a concept, theory or problem, seeing them figure it out, not just me telling them something, but actually discovering something for themselves," Smith said. "There is a tremendous sense of accomplishment in that, and I selfishly love sharing in that process."
Despite his full-time position as a UWG employee and his economic research, Smith still manages to have the time to work on projects and collaborate with fellow professors.
Smith is currently working on a project with Dr. Lisa Gezon, Department of Anthropology professor and chair, Dr. Heather Bono, Department of Economics lecturer, and Macy Walker, a former economics student, in attempting to measure the impact of the Carrollton Greenbelt on a variety of housing market variables.
"We are looking at changes in price, changes in time-on-the-market, and changes in construction activity around the Greenbelt to examine how this new amenity has affected the area," Smith said. "We have submitted one paper for review and are in the process of collecting and examining sales data for another, but hope to have results soon.
Another project Smith participated in was spearheaded by Economics Professor Dr. Hilde Patron. The project involved developing a classroom activity that used student-produced animations to learn and teach economics.
Smith is continuing his research journey with Dr. Patron, and is currently working on briefs for the Georgia State Senate.
"So far, we have provided Senate leadership with estimates and suggestions for continued refinement of the Title Ad Valorem Tax," Smith said. "Although taxes may not seem fun, having the opportunity to see our work and research help address important policy issues for the State of Georgia is very exciting."
Smith puts his knowledge to good use and serves as an inspiration to the entire West Georgia community.
"I have found that being excited about learning new things, no matter what it is, will open doors that you never knew existed."