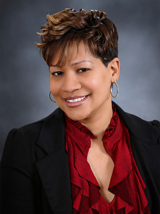 Catrice Clark
Director
Office of Revenue,
Receivable & Cashiering Services (RRCS)
Georgia State University
What is one word that describes you, the program and your future?
Inspirational
What does Go West mean to you?
Go West means:
convenient for professionals to obtain higher education
supportive staff and faculty
effective communication and informative
efficient use of technology
Why did you choose the Richards College of Business at UWG to receive your online MBA?
I chose the Richards College of Business at UWG because the staff was extremely helpful in the admissions process. I was advised step by step and ensured I was comfortable with my decision. They were extremely informative when answering my questions.
Where do you see yourself when you are done with your MBA?
Currently, I am an USG employee so I plan to utilize this degree to advance my career growth within the finance and accounting units of the system.