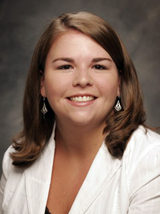 Erin Brannon
Administrative Manager
College of Social Sciences
University of West Georgia
What is one word that describes you, the program and your future?
Motivating
What does Go West mean to you?
To me, "Go West" means a sense of pride. Pride in a school that cares about its students, employees and community. A school that wants everyone to succeed. Going west is a way of life, one that leads to bigger and brighter opportunities. Go West, Go Wolves!
Why did you choose the Richards College of Business at UWG to receive your online MBA?
Prior to enrolling in the WebMBA, I had the pleasure of working with several faculty and staff in the Richards College of Business and knew they were top notch. In addition, as a proud employee of the University of West Georgia, I also knew that I wanted to be an alum of this great school. So, when I was ready to pursue my MBA, I knew there was only one place for me and that was going west to the Richards College of Business at the University of West Georgia.
Where do you see yourself when you are done with your MBA?
The skills and knowledge I acquired through the Web MBA program have proven invaluable and have allowed me to apply the course work to real word situations. These experiences have given my more credibility in my current position and will hopeful open new opportunities to grow, both personally and professionally.