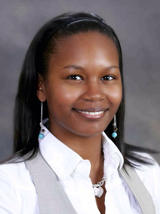 Framika McCullough
Auditor
Internal Audit Department
What is one word that describes you, the program and your future?
Tenacious
What does Go West mean to you?
To me, "Go West" means to go take advantage of a better opportunity. I attended UWG for undergrad and obtained my BBA in Accounting. Not only was I pleased with the education that I received from the Richards College of Business, but I was prepared for entering the workforce. I graduate with confidence in myself - my knowledge, skills, and abilities - and knowing my worth. This confidence helped me with my interview, obtaining an auditing position, and excelling in my career.
Why did you choose the Richards College of Business at UWG to receive your online MBA?
The decision to attend UWG for the Web MBA Master's degree program was very simple. I was impressed by the hands on approach to learning from the professors, although classes took place virtually. Additionally, I was impressed by the range of topics covered in the program, all of which would enhance my professional position with my employer.
Where do you see yourself when you are done with your MBA?
Upon completion of the WebMBA program, I envision that I would be promoted in my company from Senior Auditor to Lead Auditor. I will also pursue entrepreneurial endeavors that would allow me the opportunity to create a legacy for my family and community. I am so glad of my decision to attend UWG. I would suggest to any student in search of a great education and preparation for a successful career to "Go West". I can now say that I "Went West", and there's no stopping me now.