College of Business Welcomes Students Back to Campus
August 21, 2020
Though the start of the semester looked a bit different this fall, the Richards College of Business decided they couldn't start the semester properly without welcoming back their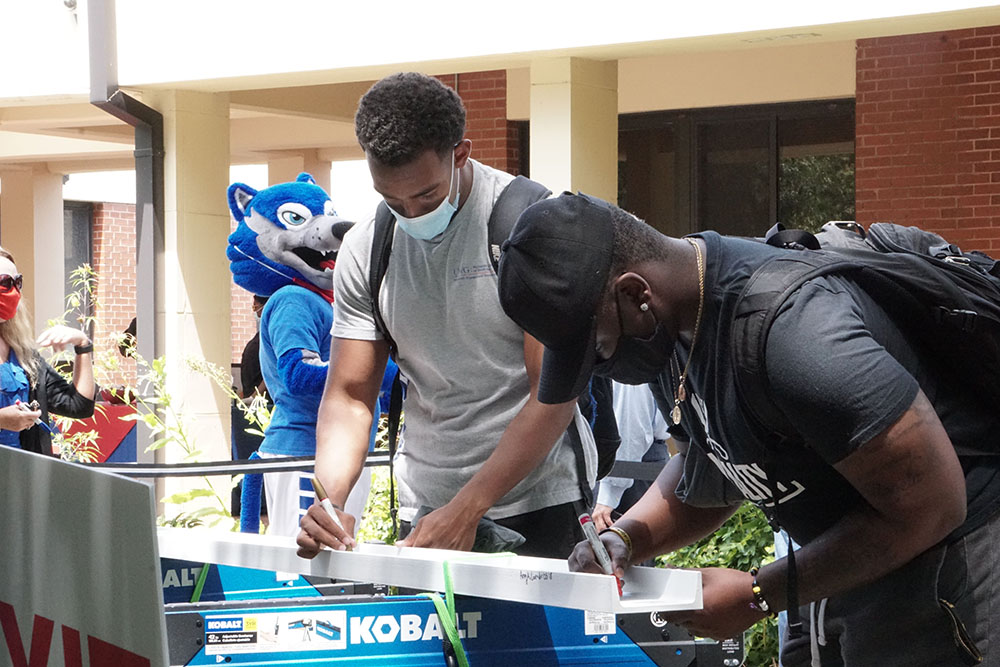 students with their annual Ice Cream Social . . . with a few adjustments, of course. 
This year's Welcome Back Ice Cream Social featured pre-portioned ice cream and socially distanced areas for picking up Richards College of Business T-shirts, which is also part of the annual event. 
"This event is a great opportunity for our faculty and staff to connect with our students," said Richards College of Business Dean and Sewell Chair of Private Enterprise Dr. Faye S. McIntyre. "This year, we felt that this opportunity was more important than ever because we knew we wouldn't have as many chances to see our students in person this semester."
The event, which is held outdoors, already lent itself easily to social distancing guidelines. Coordinators also made hand sanitizer available and mandated masks be worn by all attendees. 
Throughout the two-hour event, Richards College of Business staff handed out hundreds of T-shirts and Dine West staff passed out just as many servings of ice cream and water bottles. UWG mascot Wolfie was also on hand to get everyone into the school spirit as the semester got under way.
New to this year's event was the opportunity for students, faculty, and staff to sign one of the structural beams that is part of Roy Richards Sr. Hall, the new home of the Richards College of Business that is currently under construction on Maple Street. Students, faculty, staff, and even some business alumni dropped by to sign their name on the beam and be a part of UWG history. 
Organizers said the event was a resounding success.
"I'm very pleased that we were still able to have this event for the students in a safe manner," said Richards College of Business Associate Dean Dr. Brad Prince. "Everyone kept their masks on, spaced themselves out, and had a great time."