The MBA Journey: No One Gets There Alone
September 1, 2020
As online MBA programs grow in popularity, they are also evolving to provide the most effective experience possible for students.
Online MBA Programs Surge in Popularity and Availability
If it feels like you've heard a lot more about online MBA programs in recent years, it's because you have. Demand for these online degrees has exploded. A 2017 report from GMAC found a 47% increase in the number of online MBA programs reporting application volume growth. Meanwhile, GMAC also found a decline in applications for full-time, on-campus MBA programs at 70% of U.S. business schools.
There are now hundreds of accredited programs in the United States, and one account estimates more than 800,000 prospective students apply each year to MBA programs, with about a million students enrolled in business schools at any given time. The MBA has become a popular choice for people aiming to start companies or to succeed at the highest levels of businesses. With so many options and choices available, a major question facing all prospective business students is which MBA program is the right choice for them.
Considering the MBA for You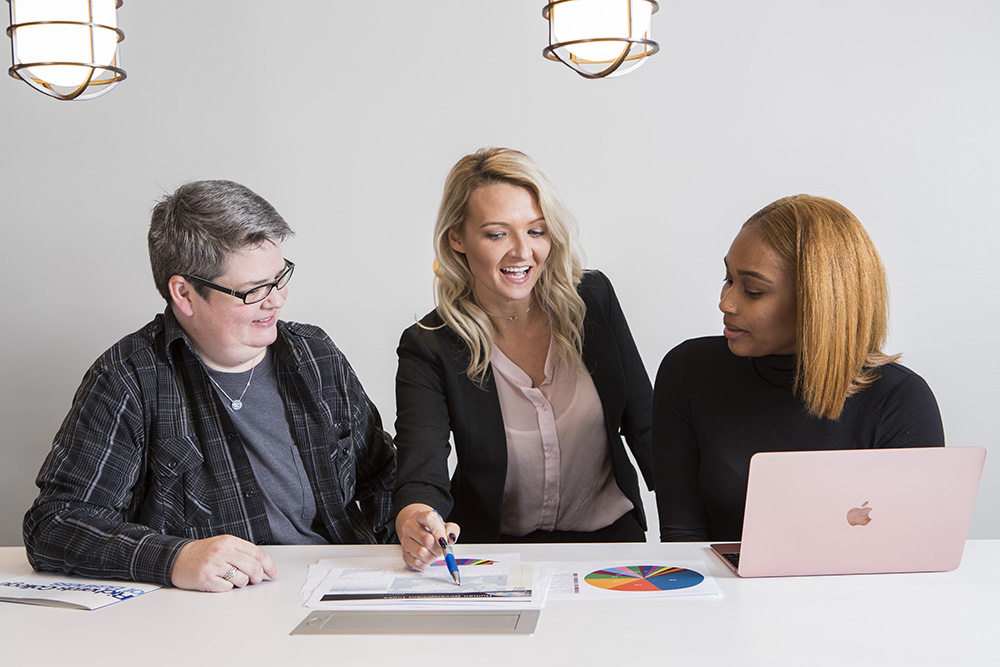 There is a long list of factors to consider when choosing the right MBA program. Top-level considerations like cost and length of the program will always play a role, but there is plenty more to think about when narrowing down choices.
For instance, it's important to answer the questions, "What am I seeking from this degree," and "Does this program align with my ultimate goals?" Considerations like this revolve around how the courses are delivered and how you will, and are able to, connect with teachers and fellow students. Who helps when you have questions or problems?
There is no shortage of programs out there, many tailored in different ways to fit the various situations prospective students might face. That's the very essence of an online MBA program – one that offers the flexibility current and future professionals need to achieve all their goals within the context of the busy lives they lead. 
The Georgia WebMBA
The Georgia WebMBA was designed to offer that needed flexibility, while still achieving all the learning objectives of any on-campus MBA program. The 10-course, online WebMBA is fully accredited by the Association to Advance Collegiate Schools of Business, the premier accrediting body for business degree programs, and takes five semesters (18 months) to complete. The coursework is guided by highly qualified professors from seven University System of Georgia institutions.
Importantly, because the MBA journey is seldom a solo trek, the Georgia WebMBA provides the benefits of six-person team/study groups. Students spend the entire program working alongside their cohort, which allows them to bond over shared life experiences that come with trying to get your MBA online.
Whether it's a working parent, a single parent, or veteran professionals seeking a reset or long-desired addition to their educational resume, this lockstep, cohort approach means the MBA journey is never a solo one. The Georgia WebMBA has more than 20 years of experience offering an MBA online, and The University of West Georgia, one of the seven universities that comprise the Georgia WebMBA, believes strongly in the effectiveness of the online, team-based approach. But perhaps the best way to understand the benefits of this cohort method is to hear from those who have been through it and used it to complete their journey to attain an MBA.
From Those Who Completed the Journey
Gaining firsthand perspectives from actual MBA students is one of the best ways to relate to and understand how a program might fit into your particular lifestyle and style of learning. The University of West Georgia spoke with a handful of students who recently graduated from the program through UWG's Richards College of Business to understand how the Georgia WebMBA's cohort and lockstep approach impacted their journey to attaining their degrees.
On the cohort approach:
"The cohort aspect of the program helped me to feel connected to the program and more like I was in a traditional classroom, even if all of the courses were online. From collaborating on group work, I felt like we better understood the material as we had conversations about our questions and our ideas. This was particularly helpful during difficult courses or semesters when balancing work and life was difficult."  – Laura Beasley, Spring '20
"I enjoyed the cohort-based part of the program because it promoted consistency. I am a full-time, working, single mother, so knowing that I would be with the same 'cohort-mates' the entire time was reassuring. Even though I had my team members, it was beneficial to know that I could reach out to anyone in my cohort if need be." – Elizabeth (Danielle) Sphire, Summer '20
"The cohort-based/lockstep learning framework provided significant support for me to effectively mobilize and ration my resources towards the MBA. It gave me the allowance to streamline my time investment and build a strategy to efficiently approach my goal. The locked-step system provided a roadmap with all specific details including start-to-end date which made it easy to budget, set targets and execute on the project. Coupled with the meticulous structuring of teams, I was able to effectively flex my daily routines with the right spread vis-à-vis academic teamwork."  – Moses Ndifon, Summer '20
On establishing team contracts:
"Creating a team contract was very beneficial because it automatically set up boundaries and expectations. When I was first told to create a team prior to orientation, I knew nothing of my teammates and that was frightening because I was going to be stuck with them for 18 months! The team contract was easy to create and also easy to refer back to, if needed. Luckily, my teammates and I never had any issues and did not need to mention our contract the entire time. I would say the team contract is similar to the expectations set when you first start a new job. If you do not follow these expectations, repercussions will occur." – Sphire
"The team contract formed the bases of our daily interaction. It was the foundation of our bond and we redesigned it to meet our fundamental structure and mode of operation. We became a family that rebuked with understanding. The contract gave us a structure and helped us in our strategy. I have been able to apply this same concept with my own students and there's a lot of improvement in performance." – Ndifon
"As an educator, I have learned so much about navigating group collaboration in an online course. My perspective as a student in this program will help me to better understand my own courses for students I teach. This is particularly important during the pandemic, as more course content is moved online and students and teachers must learn how to preserve the connections made in traditional settings now in online courses." – Beasley
On how their teams helped through adversity:
"I loved having a team for this program. I was nervous about it at first because I am the type of person who thrives working alone, but my team and I were all very similar and had similar work ethics and expectations. I think all education levels should work in a team environment because it truly prepares you for real-life situations. My goal is to work at the C-suite level and I know I cannot achieve that alone. I highly recommend the team-based part of this program." – Sphire
"One of our strategies was to assign course leads based on knowledge/structure of the subject. This enhanced scheduling and allocation of tasks, interpretation of terms, and compilation of team projects." – Ndifon
"I have to say, having someone to commiserate with was helpful! Having a team, I was not left feeling anxious and isolated, but rather, could discuss difficulties with my team members." – Beasley
"This a useful skill to learn, as in the workplace some of your team members will sometimes not be in the same state or country as you, and with a lot of companies having employees working remotely during the COVID 19 pandemic, this has prepared me for working remotely and communicating with my team." – Khalid Williams, Summer '20 
Reflections on the journey to a Georgia WebMBA:
"This was an amazing journey for me. The flexibility of this program gave me a work-study opportunity. The course delivery model was easy, loaded with a lot of knowledge and accommodated self-pace study. While my business acumen was being broadened, my career equally received calculable boast. I benefited from the expertise of renowned business professors to enroll for my PhD and was inspired by an awesome team to whom I am greatly indebted."  – Ndifon
"The phrase 'You don't know what you don't know' comes to mind as I think of how my perspective and knowledge of these topics has changed over the past two years. As an English major and writing instructor, there were moments in these past two years when I wondered if I was capable of completing the program. However, my team and professors supported me throughout, even with material that I found difficult. This program changed my understanding of my own abilities. It made me realize that I can, in fact, not only understand, but even enjoy subjects that intimidate me. This program broadened not only my understanding of these topics, but of this field of study and of myself!" – Beasley
"This WebMBA program improved my leadership skills and taught me the importance of beneficial conflict. I learned how to take charge during certain projects. I also learned that sometimes you shouldn't always agree with the majority and make your voice and ideas be known if everyone doesn't agree." – Khalid
Conclusion
Earning an MBA has shown to boost earning power, but the value of an MBA also extends to intangible benefits, including the prestige of a highly-regarded degree and a far-reaching alumni base. The nonprofit Graduate Management Admission Council found in its annual survey of alumni that 90% agreed their graduate business education boosted earning power and 95% of graduates rated their education as a good-to-outstanding value.
The MBA has proven to be a worthwhile investment, and today's online programs offer access to people who once faced an impossible path to earning this degree. Furthermore, these programs have evolved from just online-based education to a robust, interactive and cohort-based approach that provides the advantages of campus-based education with the flexibility of distance learning.
If you're interested in earning an MBA, click here to explore how the Georgia WebMBA might be the right program for you.