Sheila Tehranchi
Senior Financial Analyst, FP&A
PGi (Premiere Global Services, Inc.)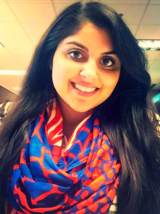 What is one word that describes you, the program and your future?
Resilient
What does Go West Mean
To me the phrase "Go West" means going places you've never been before. It means conquering any obstacles that you may face on you journey to success and accomplishing your goals by any means necessary. Knowledge overcomes all barriers in life. Stay the course. Go West!
Why did you choose the Richards College of Business at UWG to receive your online MBA?
After researching the Georgia WebMBA and the six schools participating in the program, I quickly knew my home would be with UWG and Richards College of Business (RCOB). UWG and Richards College of Business are highly recommended by several resources for graduate school programs. Aside from top rankings of student satisfaction, affordability, and flexibility, the staff at UWG sets the university apart from the pack. Richards College of Business staff helped me complete the admission process seamlessly while staying informed of deadlines and procedures. Professors are equipped with vast knowledge and various backgrounds that aid in teaching students from around the various backgrounds that aid in teaching students from around the world. From preparing to take the GMAT to walking across the stage at graduation. Richards College of Business staff is by your side and wants to see you succeed. You are truly family at UWG.
Where do you see yourself when you are done with your MBA?
Once I graduated in April of 2014, I knew that I would benefit from earning my MBA degree. One of my proudest moments was graduating in the top 10% of my class, while working full time, bringing classroom knowledge and skills to the workplace. Being inducted as a member of the Phi Kappa Phi Honor Society and the Beta Gamma Sigma Honor Society reinforced the commitment of both myself and UWG staff, while providing excellent networking opportunities for years to come. Following a promotion and new job offers after graduation, I accepted a position with PGi (Premiere Global Services, Inc.) as Senior Financial Analyst in the Financial Planning and Analysis division. Earning my MBA has equipped me with the business acumen required to succeed and make positive impacts, benefiting both my employer and myself. Employers value the dedication and drive required for professionals to work and attend graduate school both full-time. Furthermore, the WebMBA program teaches leadership, strategy analysis, and management skills that go beyond the workplace.